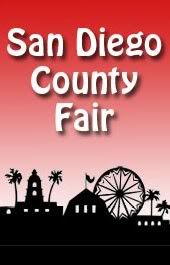 Here's a breakdown of all 21 glorious, greasy, batter-dipped days, where every night there is a wide array of musical talent.
June 10-Pat Benatar
First weekend and it's one of rock and roll's greatest female performers. A must see right out of the box.
June 11-Bruno Mars and Janelle Monae
Two young upstarts brimming with talent and already a bunch of hits
June 12-John Hull Band
Local San Diego band who likes to rock
June 13-Closed
June 14-A Flock Of Seagulls
Get your 80's on!
June 15-Weird Al Yankovic
Lighten up your mid week with the prince of parody
June 16-Paul Revere and the Raiders
Get ready to board the way back machine-it's the timeless 60′s rockers!
June 17-Switchfoot
The brothers of the Bro-Am, jamming a night before the Moonlight Beach party
June 18-Melissa Etheridge and Wild Child
2 bands-the early Etheridge show and late night w/ Wild Child-don't miss either
June 19-Reckless Highway
It's a country music duo ready to get their hoedown on
June 20 Closed
June 21-Doobie Brothers
Fire up with all the 70's and 80's classics
June 22-Neon Trees
A nice, modern rock sound for a Wednesday night
June 23-Willie Nelson, Belly Up's Blues Festival featuring Ron Piazza, Foghat
Probably the best night for music at the Fair. Country legend Nelson leads a pack of other country artists at the Main Stage. The Belly Up Tavern's Blues feature is the mighty Ron Piazza, and some more good rock and roll can be found when Foghat hit's the Paddock Concert Stage.
June 24-94.9 Battle Of the Bands
Nothing like a good battle royal, especially if 94.9 is picking and judging the acts
June 25-Gods Of Thunder (Kiss Tribute)
It's Saturday night, it's the Fair, and of course, it's a Kiss Tribute
June 26-Forget the Music, it's the San Diego International Beer Festival!
Cheers!
June 27-Closed
June 28-Fabulous Thunderbirds
Kim Wilson has been blowing the mean blues for years. Catch his band the Fabulous Thunderbirds tonight
June 29-Uriah Heep and the Beach Boys
Old school rock and roll from Uriah Heep and then the legendary harmonies and surf song sing-a-longs of the Beach Boys
June 30-Joan Jett and The Belly Up Rock Festival featuring Jackie Green
It's Ms. Jett, a SD Fair staple bringing the rock, and then another great Belly Up sponsored show featuring San Diego talent Jackie Green
July 1-102.1 Singer-Songwriter Contest
Local songwriters represent, 102.1 is looking for you.
July 2 -Grand Funk Railroad
It's Homer Simpson's favorite band, and another classic rock must see
July 3 -Candy O (The Cars Tribute)
Okay, so San Diego wasn't on the reunited Cars tour list. We get the next best thing- a Cars Tribute Band!
July 4 -Reo Speedwagon
Fireworks and monster radio hits, I can hear you singing along already.
July 5-Cash'd Out
Last night- go out in style like the man in black himself.