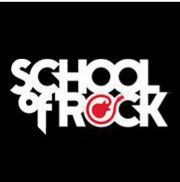 When I walked into the room, the band was playing "Start Me Up" by the Rolling Stones. And it was good! They were right on it. As I got closer to the sound booth, I noticed this wasn't your usual rock band. There was no long hair, no swearing, no ripped clothing, empty beer bottles, or bad attitudes. This band was a band of young boys and girls, ages seven to eighteen, jamming on the Stones. It was their Saturday session, part of the three hours of rehearsal they receive each week at the Vista School of Rock.

Jody Bagley, one of the school's teachers, was putting the band through the paces, working them over and over again until the ending cymbal crash was just right. Their motto on the door read, "Inspiring kids to rock… on stage and in life." And from the confident look on all of their faces, not to mention the serious approach they were taking to insure the ending was just right, there was no doubt that these kids were inspired by playing music.

When the band wrapped up their session, they dispersed to different parts of the room, some even hitting the handful of tiny sound rooms to practice their instruments. Talking to the Music Director Tom Mitchell, I got the sense that more than just learning how to play a Stones song was going on here. Mitchell was extremely passionate when describing the program, which consists of a 45 minute one-on-one session each week and then the three hours of band rehearsals. But more than that, he had numerous stories of how this rock and roll school had become a sanctuary for the kids. Maybe they aren't the best in sports, or maybe they are a little shy and reserved when they walk in the door, but once they start banging out the rock and roll, things seem to change. Not only do they start to form confidence by learning an instrument, but a bond starts forming with the other kids in the school. If someone in the band is starting to go "rock star," they are immediately partnered with a struggling student to help that student learn his or her part.

"They keep each other in line," Mitchell told me. "They mentor each other. It's a place where they can hang out and feel comfortable."

So, what type of knowledge do you need before signing up at the school of rock?
"None," explained Mitchell, who carries a degree in Music and has been working at the school for five years. "Most of these kids come in with zero knowledge of how to play an instrument. From the beginning we start working on theory, doing scales, getting them to really know their instruments."

New rockers are put through the paces in what they call "Rock School 101," where each student focuses on his or her instrument by learning Pink Floyd songs. This usually goes on for a couple of months until they're given the opportunity to audition for the house band. Once that band is formed, they will work on five different songs per week, honing their sound. From then, it's on to Led Zeppelin, southern rock, even power trios. Sam, one of the students, shared with me that he was self-taught when he first came to the school, only liking a few rock bands. But once he was exposed to the different bands and learned more new songs than he knew what to do with, he now "likes all different types of classic rock." Enough so that it even inspired him to form his own band "The Entities!"

The School of Rock has been in Vista for over three years, using music to build camaraderie and confidence. They offer three scholarships per year for those who can't afford the program and are looking to start a "Rock Star Junior" class for ages three through six and a "Daisy Rock" class for girls who want to play guitar. When I left the school that Saturday and walked past their motto one more time, it was me who was inspired by the amazing work being done for the kids in this community. The passion that each of the teachers brings to these kids is phenomenal and really demonstrates what a universal language music is.

Check out the amazing talents of the kids at the School of Rock at the Carlsbad Ocean House Saturday, June 18th and Sunday, June 19th. You can also catch them at the San Diego County Fair Tuesday, June 28th.
For more information, click here.