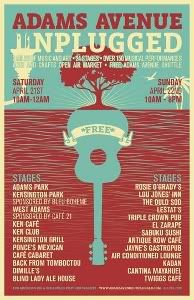 Over the weekend of April 21 and 22, over 170 musicians played up and down Adams Avenue in a revised version of the 18 year strong Adams Avenue Roots Festival. This year's version was billed as unplugged as most of the musicians performed acoustically.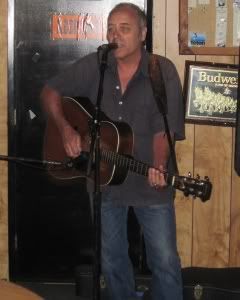 When Joey Harris, the veteran Beat Farmer, casually strolled into the Lou Jones Inn and unpacked his guitar, told a raunchy joke and started playing, I knew I was in for a day of great music. All it took was a few songs and Harris had the crowd eating out of his hand. His hilarious between-song banter, sprinkled with legendary tales of his buddy, Country Dick Montana, made for probably the most entertaining show of the day. It was nice to see the bar fill during the course of his set. It almost seemed like the word was spreading on the street that Harris was in fine form. Harris definitely seemed to enjoy the swelling crowd and the enthusiastic responses he was receiving. I was only expecting to stay for a few songs because I wanted to get to see Colin Clyne, who was performing about 10 blocks away. But Harris was in such rare form that it was hard to pull ourselves away. I'm glad we did, though. Once we made it down to the Ken Club and settled in for Colin Clyne, the long walk (we kept missing the trolley) was worth it. Clyne's warm voice greeted us at the door and instantly put a smile on my sweaty face.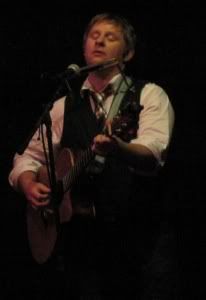 The side room where the bandstand is located with a few scattered booths, had perfect acoustics for Clyne's thick, Scottish vocals. His sound was filled out by violinist Patric Petrie on fiddle and John McCallum on percussion. Petrie's fiddle gave Clyne's Celtic acoustic material some really nice depth.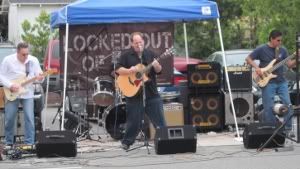 Walking back north, we stopped to hear some slick guitar stylings from Locked Out Of Eden, who was playing outside of the Blind Lady Ale House. Lead singer David Hermsen and lead guitarist Guy Aeschelmann had some good grooves working and were creating some of the rockinest sounds we heard all day.
Poked our head in to see the legendary Gregory Page at Kadan, but it was packed so we found ourselves back at The Lou Jones Inn. By that time of night (around 8:oo) the lines were starting to get pretty deep for every club up and down the street. So, we wrapped up the night listening to some down and dirty blues from Fred Heath. Heath's three piece was laying down some gritty blues and was a nice cap to the day. Though I was only able to make it down on Saturday, I will know for next year to make sure I clear my calendar to be able to attend both days. The Roots Fest is that good.