Here's a look at the top 5 rock and roll albums released in 2010.
5. Black Dub – Black Dub
Famed producer Daniel Lanois (Bob Dylan, U2, Peter Gabriel, Neil Young, to name a few) culls together two of his favorite session mates bassist Daryl Johnson and drummer extraordinaire Brian Blade. He adds a curve ball to the mix with vocalist Trixie Whitley to help support his latest adventure Black Dub. Whitley's vocals add a sultry flavor to Lanois' sonic atmospheres. Jazzy at times with a little New Orleans flavor here and there, Black Dub's first work together begs for a second record with this group of players.
4. Los Lobos – Tin Can Trust
These boys have been together so long that it's like hanging out in their garage listening to them jam. Some of the songs are slick productions, but most are just the wolves being the wolves. Lead singers and lead guitarists David Hidalgo and Cesar Rosas work out some strong guitar moments and the band fills in all the other colors needed to make this record shine.
3. Neil Young- Le Noise
What was originally slated as a Neil Young solo acoustic record turned into a Daniel Lanois produced sonic guitar romp. While it's just Neil and his guitar blasting away on some ferocious licks, Lanois actually put together a special guitar that Young wields like a wild stallion on Le Noise. Extremely adventurous work from a true artist who is not afraid to take chances.
2. Black Keys- Brothers
These two bring back rock in its finest form, forging a unique but old school blues sound that underlies their sixth release. Sometimes it's hard to believe it's just drums and guitar here, but lead singer/guitarist Dan Auerbach projects such deep soul into the grooves that it gives this record a strong underlying depth.  The kings of simplicity stamp out a classic!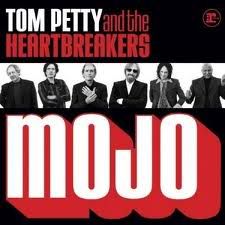 1. Tom Petty and The Heartbreakers- Mojo
Could of called this record "Mike Campbell Unleashed" as Tom takes the shackles off of lead guitarist Campbell and lets him romp all over the place. Petty's a master songwriter, crafting material suited for a laid back blues feel, something  that the Heartbreakers groove on throughout Mojo, the rock record of the year. Mojo is full of the jam, be it an Allman Brothers guitar dual, or a Santana sounding lick, even a Grateful Dead vibe, this album has it all. All those years of playing together come together to produce the most relaxed material Petty has done in years. Obviously these guys were feeling their Mojo here!