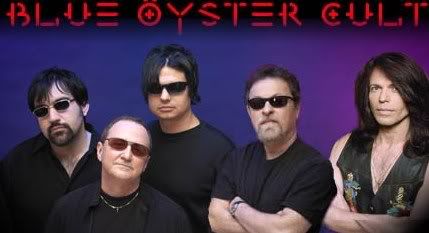 Blue Oyster Cult has a brand of rock and roll that is sealed in the late 70's/early 80's. All the drawn-out guitar solos are there, all the extended drum and bass parts and all the layered organ riffs. Throw in a few massive rock radio hits like "Don't Fear The Reaper" and "Burning For You" and you have a prescription for a night of solid rock and roll, which they delivered passionately, at times even with fire, at the San Diego County Fair.

The current incarnation of the band features two remaining original members in Buck Dharma and Eric Bloom, but is also accented by well-traveled bass player Rudy Sarzo (a member of Quiet Riot, Whitesnake, and Ozzy Osbourne's band) and new-comer Richie Castellano. Castellano fueled the evening performance with his high energy, prowling the stage with his guitar workouts and fist pumps. Dharma, always known for his spot-on playing, was in the pocket with his expressive clean solos. His voice seemed a little aged and fragile, or maybe it was just the sound? For some reason, though, the whole band was turned way down. The Foghat show I saw on the same stage a week earlier was blistering loud. Not sure what was going on there… Nevertheless, even though it would have sounded a little better with a crank of the volume knob, it was great to see the B.O.C. rocking again.

Apart from the giants in "Don't Fear The Reaper" and "Burning For You," the show also highlighted some of my favorite B.O.C tunes "Shooting Shark," "Red and Black," and "The Vigil." Great to see this solid rock outfit out on the road and playing so tight. Their version of rock and roll has always been defined by their unique songs and lyrics and their ability to deliver them live. An old school B.O.C. fan couldn't have asked for anything more than to stand off stage no more than ten feet from the band and watch them work their magic. A fitting end to a season full of great music at the 2010 San Diego County Fair.