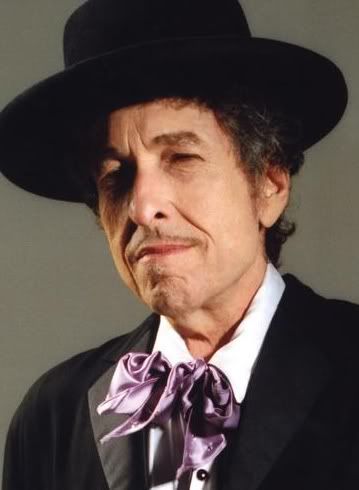 It was 1979 and I was riding with my stepfather, oblivious to the fact that my life was about to change forever. With the top down in his new, cherry red Corvette, he reached over and popped an 8-track into the deck. Out of the speakers came the strangest voice I had ever heard, so strange that I started laughing, "what the hell is this?" He hit the gas, pushing the Vette up over 100, and yelled, "Just listen!" Scared out of my teenage mind, I hung on while this nasally guy whined out the words. Something about being in a basement and mixing up some medicine and then something about some guy with a coon-skin cap who wants eleven dollar bills and you only got ten. Focused on the road, I stared through the windshield as he crooned "look out kid" over and over again.
Satisfied with his high speed inoculation, my stepfather hit the brakes, pulled the car over at the next exit and broke down the lyrics of "Subterranean Homesick Blues." For the rest of the day, we went through every song on Bob Dylan's Greatest Hits Vol. 1. It was like being transported to different worlds I had never even imagined existed. I was sold, transformed, put under this guy's poetic spell.
For the next few years, I tortured anyone who would listen about the greatness of Bob Dylan. I couldn't get over what he could say in a song. My family really thought I'd lost it when I started hanging Dylan quotes on our bathroom walls. Most of my high school friends just laughed me off. So I took to keeping it my little secret, racing home each day to listen to his records and learn more and more about this genius.
The first time I saw Dylan was in 1980 and he was on his religious kick, only I didn't know it at the time. I was ready for "Like A Rolling Stone," "Along The Watchtower," "Blowing In The Wind;" you know, the hits. I walked into the Bushnell Theater in Hartford, Connecticut, ready to see the man who my friends at school could not ridicule me about enough. When he came out preaching about Jesus and playing nothing but his new religious stuff, I left the show early, completely pissed at what I just saw. I was let down hard by my new idol. Little did I know, this would not be the last time that would happen.
I soldiered on with Bob. His music was too good, and there was so much of it for someone just discovering music to dig in to. Especially at 19, when I moved to Los Angeles and started working in a record store. I became completely obsessed with all things Dylan, so much so that while helping a customer (an older guy to me, probably in his 40's) my talk of Dylan's new live album spun his head. He couldn't believe that such Dylan knowledge was coming out of someone barely 20. He returned the next day with a framed photo he took of Dylan at the LA Forum on the Rolling Thunder Tour and gave it to me as a gift. I was blown away by the gesture and became friends with this guy, Sid, who took my Dylan knowledge to the next level.
Riding high on Bob, I made sure everyone at the record store knew that he was closing the Live Aid show. And then it happened again. Dylan came stumbling out with Keith Richards and Ronnie Wood–and proceeded to punch me right in the gut! The performance was barely audible, they were having some issues with the monitors, or maybe it was what they were on that day. Either way, I went back to work the next day and got another dose of how horrible Dylan is, something I was starting to get used to. Looking back, I didn't really have a single friend who liked Bob Dylan, except for that old guy, Sid. Out of the Live Aid fiasco came one positive, though: Dylan mentioned that something like Live Aid should be done for the American farmer, and the next thing you know, Willie Nelson, Neil Young, and John Mellencamp jumped all over the idea and birthed Farm Aid. A few years later, Dylan hit the stage at Farm Aid with Tom Petty and the Heartbreakers and delivered a blistering set. He looked re-born and re-energized. I crashed through the record store's front doors the following day bragging and all smiles.
A few years later, the Dylan and Petty tour came to San Diego and two friends and I scored 5th row seats. After making the drive down the 5, beyond excited for the show, I forgot my wallet at the hotel. Thankfully, I had my ticket in my pocket, so I wasn't worried. Until I took a sip off my friend's beer and a cop grabbed my arm and asked me for my ID. Unable to produce it and unable to assure him I was 23, they threw me into the mock jail cell underneath the San Diego Sports Arena. Behind bars I could hear the crowd roar as Dylan took the stage. I couldn't believe that I was locked up in some make shift jail cell as the show was beginning! Half way through the first song, though, and without any explanation, the cops opened the door and let me out. Freer than I'd felt in a long time, I ran to my seat and saw one of the greatest Dylan shows I have ever seen to date.
A few years later, he was playing with the Grateful Dead at Anaheim Stadium, and it most certainly would have been a dream show, except that Dylan just couldn't seem to find his way. After the great shows of the Petty tour, his time with the Dead was a pure let down.
The roller coaster that I'd always known to be Dylan swung back upwards as he started working with Daniel Lanois, making records that mattered again. When I told a friend that I had tickets to all three shows at the Greek Theater, he in turn let me know that his brother was working security. And as luck would have it, the night of the final show, that friend's brother asked me if I wanted to meet Dylan. Wait a minute… WHAT? Now this was something I had pondered before, and I had always come to the conclusion that meeting your idol was a bad idea; it takes away the mystery. And Dylan, to me, has always been about the mystery. But I could at least shake his hand, right? So there I was, standing in a hallway backstage as Dylan came out of his dressing room. He was walking down the narrow hall coming right towards me. The voice in my head repeated "just shake his hand, just shake his hand!" About 20 feet from my moment, two giant security guards appeared and started clearing the hallway. They pushed me and my friend into a side room as Dylan strolled by. My brush with destiny. The mystery continued.
A few years later, I was attending the New Orleans Jazz Fest when a friend of mine invited me to a screening of Daniel Lanois' movie Rocky World. Little did I know I would end up back at Lanois' house for a private party, nor that I would be sitting in the kitchen with Daniel himself talking about Dylan! Our brief conversation had barely begun when a few girls entered the kitchen, stealing Lanois' attention and my chance to probe him about Dylan.
Back in Los Angeles, the shows continued with two of my favorites being the intimate Hollywood Palladium and the El Rey Theater. But before long, it was over. All of the years working in the music industry seemed to have caught up with me and I was sick of going to shows. It wasn't the music, rather, I just didn't want to deal with the scene anymore. Couldn't deal with it anymore. And even though Dylan's music kept flowing in my life (constantly of course), I stopped seeing him live. For the next 7 years, I didn't go to any concerts at all. Until one day when my fiance came home, slapped two Dylan tickets on the desk and said, "We're going." How could I say no to this beautiful woman and Bob Dylan?
Ever since that show in San Diego, my passion for music has been re-ignited. It has spurred me on to create SD Rock 'n' Roll and get back to doing what I love most: listening, talking, sharing, analyzing, reviewing, and writing about music. Thank you, Darcy, and thank you, Bob, for bringing me back to myself.
Today, Dylan is 70. We have tickets to see him in a few months at the Orange County Fair. And though his voice is older and weaker, I never miss his shows. Just to see him up there, the words pouring out of him, to stand in his presence, is always worth it to me.
Without Dylan in my life, I never would have found Billy Jo Shaver, or Charles Bukowski, or Pablo Neruda. I never would have listened deeply to the lyrics of Tom Waits, Woody Guthrie, or Paul Simon. I can't imagine my life without him. In fact, one of the things I enjoy most about my life is that I am alive during the time when Bob Dylan is alive.
Happy Birthday Bob!!