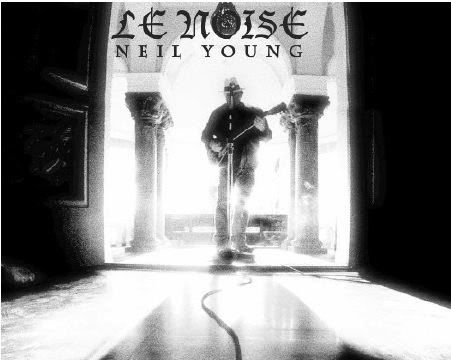 A man, his guitar, and a microphone. In rock and roll, there is no one more captivating live, standing alone on stage, than Neil Young. Be it his overfilled trunk full of songs, his melody drenched acoustic guitar strumming, or the unabashed charisma he displays when plugging in his electric guitar, Neil Young forces you to pay attention.
Below is 40 minutes of Neil Young's latest passion, entitled Le Noise. The record was recorded and filmed in the Los Angeles studio of acclaimed producer (of Bob Dylan, U2, Robbie Robertson, Chris Whitley) Daniel Lanois. Though the album is billed as a solo record, just Neil and his guitar, Lanois' sonic backdrop turns this project into more of a collaboration.
Filmed and recorded on three consecutive full moons, Le Noise features a special guitar Lanois designed for the occasion. Lanois came up with a modified guitar for Young to place on Le Noise and from the moment he straps it on, as demonstrated in the first number, you can tell that Young has found a new love. The guitar is thick in its tone, casting a wide, full spectrum of sounds. Young, gripping its neck tightly, forces every last known sound out of the strings. His vicious approach to the first number "Walk With Me" sets the stage for the rest of the album. And though at times thoughtful in its lyrics, Le Noise is mainly about Neil Young bringing the noise. Even on the two acoustic numbers, especially the moving "Love and War," Neil's guitar really stands out and frames the lyrics perfectly.
So, it makes sense that Neil delivered the album to You Tube as a whole. It's 40 minutes of haunting, up close, mainly black and white shot versions of the album, that when seen in its entirety, really make up a moving piece.
Below is the video for the opening selection "Walk With Me." To take in the complete 40 minute experience, click here.