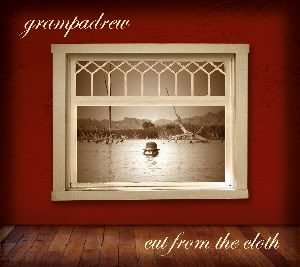 Singing from the top of his lungs, "I will give you all I have," Drew Douglas opens the Grampadrew album Cut From the Cloth with a bold declaration.  And for the next 13 songs, he manages to follow through on this decree by presenting a personal journey through a landscape that is not only easy and accessible to follow, but one that entertains on many levels. I like the way a soft violin segway from Marta Zaludova (Transfer, Republic of Letters, Silent Comedy) opens up the second number "Paper Hurricane." If the declaration of the first song came wrapped in a passionate vocal statement, then "Paper Hurricane" represents the compass on the road map. The second track points squarely at the foundation of Cut From the Cloth. The album is built on Drew Douglas' passionately delivered lyrics and vocals, classically trained cello from Erin Browder, stirring, gripping, lovely violin from Marta Zaludova, and the steady beat of Matt Lynott (White Buffalo) on drums.
Within the first three songs you start to get a taste for Douglas' vocals. His tone can be a spot dry and his delivery slow, but after a few listens it has a way of sneaking up on you and drawing you in, especially on the fourth track "Myra Says" where Douglas' vocals are wrapped in a moving string arrangement that demands you pay attention.  The stirring acoustic number builds gradually before slowing into a perfectly placed gripping middle, creating one of the best tracks on the album.
Halfway through the record on track six "Only Kids," Douglas unexpectedly jerks the wheel and sends the first part of the record off down a more rollicking up tempo path. The song's universal message about war seems a little forced and maybe a bit trivial, though the pace shift works to create some space in the record. It's obvious Douglas is putting together an album that is more than just a few singles flung together in hopes of harmony. Cut From the Cloth works as an album, meant to be played in it's entirety and enjoyed as a whole.
The second half of the record starts with "Above Beneath" and serves as a line in the sand; one that puts the album back on track and flings the door wide towards its triumphant finish. Douglas opens up his vocals and delivers one of his most touching performances.  It's almost like he was just teasing us earlier on in the record, giving us a peek at his vocal range, and is now saying here comes the grand finale. Stand out lyrics, stand out vocals, and a stand out delivery really push this song to the forefront of the album's best. Two songs later a trumpet announces "Undersized T-Shirt," an innocent frolic down memory lane. "Skinny kid in an undersized T-Shirt/showing off my geek physique/I don't care if you think I'm popular/if I'm uncool, I'll wear it on my sleeve/and hang out with the other kids/in their undersized shirts like me." "Undersized T-Shirt" has the most pop accessibility and would work as a great single on the record without giving away any of the depth this record personifies.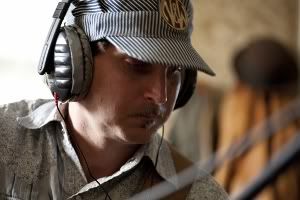 As the album gets close to its finish, Douglas works up a Johnny Cash delivery on the title track "Cut From the Cloth" as a nice tribute to his grandfather. It's one that's pushed along eloquently by another Marta Zaludova violin piece and a nice touch of a nylon string classical guitar. "I put on my grandfather's shirt/ and it fit me to a tee/ there's more to that man than I will ever know/ inside of me."
Obviously there is more to Grampadrew also, and Cut From the Cloth gives a good glimpse into this San Diego musician's wealth of talent.  The 13-song collection has a way of latching onto you, leaving you with a handful of memorable melodies and an appreciation of the heart felt lyrics that are not easy to ignore.
Pictures of Drew Douglas provided by Jeff Wiant