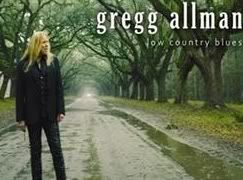 Gregg Allman's first solo record in 14 years, Low Country Blues is a modern day blues treasure. Its material and performance place Allman in his rightful chair, right there next to the unbelievably great blues men who came before him.
Producer T Bone Burnett compresses the sound on Low Country Blues to the point that it feels like you are listening to some old 60's blues record you might find tucked in the back of your uncle's record collection. It's dirty blues, gospel blues, mostly at a slow pace, giving Allman a chance to honey drip his legendary vocal delivery.
The record is comprised of covers mostly, with only one track "Just Another Rider" written by Allman, which he co-wrote with Allman Brother band mate Warren Haynes. The others are Allman's predecessors – Muddy Waters, Junior Wells, Otis Rush, Bobby Bland Skip James, Magic Sam, and B.B. King. And though a little over a year since a liver transplant, Allman's vocals fit snug up against the material, displaying no weakness or fragility, especially on "Blind Man," where he delivers the growl he has made so famous with the Allman Brothers band.
The musicians he surrounds himself with are pros, delivering the perfect companionship to Allman's vocals. The music never overpowers the tracks but instead fills the groove and elevates the numbers subtly. T Bone Burnett could not have found a better bunch of musicians to accompany Gregg on this record. From Dr. John on piano, to Doyle Bramhall II on guitar, the band is also supported by the reputable rhythm section of bassist Dennis Crouch and drummer Jay Bellerose (from Robert Plant and Alison Krauss' multiple Grammy-winning T Bone Burnett produced Raising Sand album).
Allman's smooth delivery, built on years of living the blues and carrying the torch for the white blues singer, is packaged perfectly on Low Country Blues. And now that he has found a producer with the depth of soul that Burnett delivers, hopefully Allman will feel the need to continue recording more frequently than every 14 years.