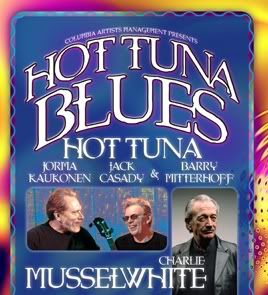 Hot Tuna, the legendary offshoot of the 60's Jefferson Airplane, put their blues pedigree on display with a captivating two set performance, one acoustic the other electric, at The Belly Up Tavern in Solana Beach. The show opened with founding members lead singer/guitarist Jorma Kaukonen and bass player Jack Cassidy grabbing a chair and sitting down for an intimate acoustic set. Known for their acoustic blues sets that made up the bulk of their original material, Hot Tuna leaned back in their chairs and delivered with ease.

Their sound, smooth and tight throughout, was filled out and heightened by the scrambling finger picking of the third member, mandolin player Barry Mitterhoff. Mitterhoff delivered a fine blend of blues playing mixed with the occasional bluegrass picking style to accent the interplay of Jorma's country blues solos and Cassidy's heavy but unobtrusive bass lines.

The show was billed as the Hot Tuna Blues Band and when harmonica legend Charlie Musselwhite was called out on stage, he instantly raised the blues bar more than a few notches. Musselwhite has been an ambassador of the blues for over 40 years, and the senior member of the group was given much respect and acknowledgment from not only the band members but from the more than thrilled audience. Musselwhite's fine blues harmonica laid on top of a few numbers created a sweet flavor to the already rich acoustic sound.

The night's intimate sit-down first set served as a fine opening act to the evening's overall performance. So when the band came back on stage strapped in to go electric, things shifted into high gear. Within the elongated solo of the first number, the contrast of the two sets really deepened my appreciation for the talents and depth of Hot Tuna. Cassidy's bass took on a whole other intensity as he ground out one nasty run after another. Jorma  just kept feeding the Cassidy groove and when Mitterhoff interjected the lean guitar solos, the Hot Tuna Blues Band was running at maximum speed.

Couldn't help but wonder what magic could have been created on stage if originally slated guitar slinger G.E. Smith (known for his work with Bob Dylan, Hall and Oates, and the Saturday Night Live Band) was able to make the show. Unfortunately, Smith and opening act Jimmy Lauderdale were unable to perform due to family emergencies. But, even without Smith and Lauderdale, Hot Tuna gave a lesson in the blues both acoustically and electrically at the Belly Up Tavern that won't soon be forgotten.