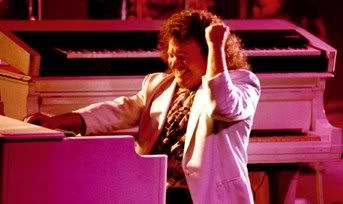 Rock and roll is full of strange tales of how band members come and go. Here's a great one about how a legend in rock got his big first break.
Billy Powell of Lynyrd Skynyrd learned how to play the piano at an early age, but it was a fluke that he got a chance to tinkle the ivories for one of America's greatest Southern Rock bands. When Powell was in high school, he met and befriended Skynyrd's bass player Leon Wilkerson. Wilkerson hooked Powell up with the band as a roadie and Billy went on to work for them for two years.
During a break after a show, Billy sat down at a piano in the corner of the room and played the intro to Freebird. Lead singer Ronnie Van Zant just happened to be walking by and heard Powell's powerful, now legendary, piano part. Van Zant was so blown away that he asked Powell to join the band right then and there. And that's the story of how a roadie became an integral part of one of rock's greatest songs and one of rock's greatest bands!
Powell played with Skynyrd for close to forty years after that, even surviving the tragic plane crash that took the lives of lead singer Ronnie Van Zant, guitarist Steve Gaines, and his sister and back up singer Cassie Gaines. Powell was there through thick and thin with the band, helping them reform after the crash and holding down the famous piano parts of many of Skynyrd's classics. Unfortunately, Billy Powell passed away from a heart attack in 2009, silencing one of rock's greatest gentlemen and piano players. RIP Billy.