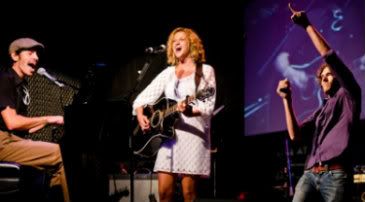 The YES Team has been out spreading good vibrations for good causes since their inception in 2011. Originally hailing from New York City, Kinnie Dye, Jonathan Walsh, and TJ Moss trekked cross country and found the San Diego sunshine and culture more suited to their positive vibe. At first they played to passer-bys on the boardwalk of Pacific Beach and then to the local club scene. Since then, the Yes Team has been building not only accolades (they won an Emmy Award), but followers to their message. Sunday July 22nd they are at it again. This time they will be at Whole Foods Market in Encinitas, teaming with Luc and The Lovingtons in support of the Feeding The Soul Foundation.
The band gave me a glimpse inside their motivation and message when I caught up with them the other day.
How important is it to you to give back with your music?
Giving back is our thing. We've been doing it since we became a band. It all started with busking on the boardwalk and reaching out to the homeless. We give them our music, hugs, high-fives and smiles. Giving back fueled our mission statement: Bringing Unity Through Harmony. Since we started this crazy journey, we've seen our good-vibe-driven music positively effect people's days, moods and lives.
How or where has music transformed your life?
The most transformation from music for us has been coming out here to San Diego. This place welcomed us with open hearts and open arms. We've seized the opportunity to make music our livelihood, which we were unable to do in NYC.
This path that we've chosen has brought a sense of enlightenment by reaching out to people's humanity and receiving what they have to give, whether that be a hug, a smile, or a meal.
Describe your music in one word.
Felt
Is there a theme or message you try to relay with your music?
Life is Good. It also happens to be the title of our upcoming EP (Fall 2012 Release).
What do you enjoy most about supporting Feeding The Soul?
What we enjoy most about Feeding the Soul is the people that we've met. Vallie and Melissa are good people helping others in need. They do it through three of our favorite things: food, music and the arts.
Over the course of the last two years, Feeding The Soul  'concerts for causes'  have grown in size and stature, helping  promote charities through local artists, concerts, and special events. While supporting such organizations as Indigenous Education Foundation of Tanzania, Rock Camp for Girls LA, Helen Woodward Animal Center, Brother Benno's Soup Kitchen, and Lewy Body Dementia Association, it's easy to see why San Diego musicians have jumped on board to support this cause. With its generous philanthropy, Feeding The Soul has been able to attract an all-star cast of musicians including Jack Tempchin, Bushwalla, Paul Cannon, Tristan Prettyman, Raining Jane, and Jason Mraz, to name a few.
Sunday July 22nd Whole Foods Market in Encinitas will be donating 5% of their profits to the Feeding The Soul Foundation. So if the Encinitas vibe, the good cause, and the SuperFood drive is not enough to get you in the mood, The Yes Team is sure to spread some serious sunshine on your day.