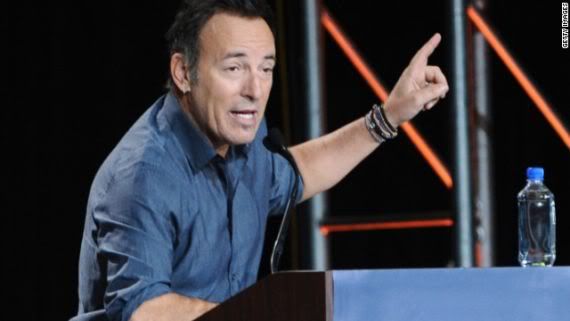 Bruce Springsteen's soul has always burned for rock 'n' roll. Those who have seen him live over the years can attest. I, personally, have never seen a performer put more into every single chord played, every single chorus sung, or every single three to four hour show he performs. The man is music. And his appreciation for music, the history of music, and the future of music, everything about music, is part of his make-up. Bruce loves music. There is no doubt.
For an hour in Austin Texas, at the South By Southwest Convention, Bruce shared his passion, his knowledge, and his love for music. Below are a few highlights from the speech:
"So, as the records that my music was initially released on give way to a cloud of ones and zeroes, and as I can carry my entire record collection since I was 13 in my breast pocket, I'd like to talk about the one thing that's been consistent over the years: the genesis and power of Creativity. The power of the songwriter, composer or creator. So, whether you're making dance music, American, rap music, electronica, it's all about how you're putting what you do together. The elements you're using don't matter. Purity of human expression and experience is not confined to guitars, to tubes, to turntables, to microchips. There is no "right way", no "pure way" of doing it. There's just doing it."
"We live in a post-authentic world. And today, 'authenticity' is a house of mirrors. It's all just what you're bringing when the lights go down."
"Every musician has their genesis moment… Mine was 1956: Elvis on the Ed Sullivan show. It was the evening I realized that a white man could make magic, that you did not have to be constrained by your upbringing, by the way you looked, or by the social context that oppressed you. You could call upon your own powers of imagination, and you could create a transformative self."
"The Sex Pistols were so frightening… Which is different from 'shocking.' A lot of groups manage 'shocking.' But, 'frightening' was something else. There's very, very few rock groups that manage 'frightening.'"
"Young musicians, learn how to bring it live. Then bring it night after night after night after night. Your audience will remember you."
"So, rumble young musicians, rumble. Open your ears and open your hearts. Don't take yourself too seriously. And, take yourself as seriously as death itself. Don't worry. Worry your ass off. Have iron-clad confidence, but doubt. It keeps you awake and alert. Believe you are the baddest ass in town. And [that] you suck. It keeps you honest. Be able to keep two completely contradictory ideas alive and well inside your head at all times. If it doesn't drive you crazy, it will make you strong. Stay hard; stay hungry; and stay alive. And, when you walk onstage tonight to bring the noise, treat it like it's all we have. And, then remember, it's only rock n' roll."
Bruce Springsteen Keynote Address Excerpt (SXSW 2012) from Columbia Records on Vimeo.