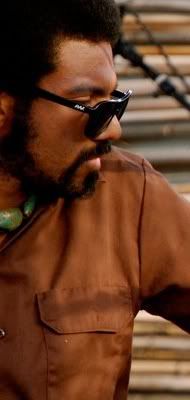 Sometimes you just need a little help. Be it from a stranger or friend, that appeal for support, when answered, can make things easier, especially for a musician who wants to express his desire for creating meaningful music. Alfred Howard (The Heavy Guilt)- lyricist, percussionist, obscure sound manufacturer- is looking for some help to make a new Black Sands record. To help fund the project, he and the band have started a Kickstarter (the world's largest on-line funding platform for creative projects) campaign. Why help out? What is this record all about? We asked, he told…
 Why a Kickstarter campaign?
I've got to think about this one a lot recently.  I read a friend's facebook post about how kickstarter was the equivalent of tasteless begging and it got my wheels turning.  Being in a band at the local level is expensive.  To self produce an album the band is coming out of pocket for the studio, the engineer, the artwork, the pressing, mastering, guest musicians and any promotion around it. I'd hate to imagine a world void of all the great art pushed forward by philanthropy.  Basically, we set up our Kickstarter to try to get some affordable pre-sales going, we're offering CDs for $10 and downloads for $5. Everyone in the Sands works full time and we're all in multiple bands. If we reach this Kickstarter goal, it just provides the cushion of less debt and less stress to work with.
How did the Black Sands project come together?
I was listening to a Jenny Lewis album and I thought to myself, "I want to start a band that sounds like the Guilt, but with a female vocalist." I was racking my brain to figure out who I might know for a singer. I asked both Craigslist and my memory and both responded with silence. About a week after the idea, I was at a Guilt show and I was watching the openers Podunk Nowhere. I loved their music, but as a duo in a chatty dive bar they were getting eclipsed by the crowd noise. I moved closer to the stage and I was mesmerized. I asked Johnny (guitarist) if he and Heather would like to join forces and he was down. The weird part is that a couple of years earlier, before the Guilt had existed, I asked Johnny the same question. He worked next door to the record store where I work and I was trying to start a band and looking for singers, but they were too busy at that time. Kinda funny how everything works out sometimes.
Biggest difference between Black Sands and the Heavy Guilt records?
Like the Guilt, this band gathered an identity in the studio. But unlike the Guilt, we had more time with this first record to try things. We recorded 90% of the album in Tim Felton's closet. Literally. Johnny had to play his acoustic guitar tracks like an upright bass. We recorded Jenny's drums in Ian Tordella's living room. We did the bulk of the recording during a heatwave and we all sweat hard for this record. Having the studio within "the family" made exploration easier. Once we aligned schedules, we called in some friends. Greg Peters from Dead Feather Moon plays some lap steel on a number of tracks. John Meeks added incredible harmonies. Chris Davies from the Penetrators plays guitar on most of the songs and he has such a unique approach to the guitar; his ideas really blew my mind, melodies I never imagined on songs, but now couldn't imagine them without. John Mailander and Jason Littlefield added the feel of a string quartet to some songs. Another friend, Jon Bleyer, added singing saw and banjo. Sean Martin, from the Guilt, added enough guitar parts that we decided he should join the band so we could recreate some of this madness live. We even got Ian Tordella on bass clarinet and tenor sax. The Sands have bassist David Lowenstein, Johnny Janiga on guitars, and Tim Felton on keys. They're all great players to work with and their approach keeps it different from the Guilt, as well. Everyone in the Sands sings a little on the record, but the biggest difference is Heather's voice.  I'm pretty fortunate to work with two great singers and people. I will say this: everyone from the Guilt is on the album at some point. Erik doesn't sing on this one, but he designed the cover. For those Kickstarting, there is a living room demo with Erik and Heather doing a duet (hopefully for the second record) that is pretty stellar.
What do you enjoy most about making records?
Every aspect of it. Music and sounds in general fascinate me. I love taking the time to try to recreate something as vague as a vibe or a mood, especially with non traditional instruments. We captured the sound of a heartbeat by punching a padded wall next to a kick drum mic. There's haunting, percussive noisescapes from a shortwave radio with a broken antenna. Any time you'd touch the broken antenna, it would hiss as long as you held it. At that point it became rhythmic, so we decided to incorporate it.  There's a ton of stuff like that on the record.
Is there a theme to this record? How would you describe the feel?
I think love, loss, and the vastness between those two poles are prime themes on this record. There's some hope woven in there, as well. Sonically, the songs have a lot of layers but retained a desert sparseness. Heather's voice is powerful, potent, beautiful, and diverse; she can massage you into hypnotic abyss and sucker punch you in the next breath. Josh Rice, from the Guilt, and I wrote the first half of the Sands songs. They started as cuts that didn't find a home in the Guilt, so they have a similar feel. But the Sands quickly grew into something substantial with our own sound. When something is good, you gotta run with it.
Did you write all the lyrics?
Yep, that's my goal in all this. I want to write for as many different projects as humanly possible. In fact, Tim and I are writing songs for a soul project so keep an ear to the ground.
What is the thing you looking forward to the most about this record.
I'm really proud of this album; I'm looking forward to it being heard. It was a real cool record to make. While we were recording it, I was going though the demise of a 5 year relationship, but music is medicine and recording this album really kept me afloat in a difficult time. I've been making music in San Diego for 13 years or so and at this point, I actually know some of my favorite musicians. I got to work with a lot of people who influence me on this record and that was really rewarding.
Editor's note: A week after I interviewed him, Al was happy to share that the band had just hit their Kickstarter goal of $1,000! You can still support this worthy project at http://www.kickstarter.com/projects/121641551/the-black-sands-album.