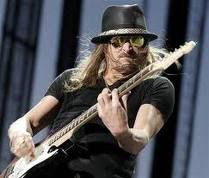 Kid Rock wanted to be a rapper. Growing up in Detroit, he gave it his best but could never quite make the scene. Once he started mixing his fat beats with rock and roll, though, things began to blow up for the man raised Bob Richie. In 1998, the world got to hear Rock's melding of his rap/rock when he put out the 10 million plus selling record Devil Without A Cause. A year later, Kid started paying his respects to the founding fathers of the music he grew up on. In 1999, Kid Rock blew up the MTV Music Awards with Run DMC and Aerosmith. The mega jam was just the precursor for many super star collaborations to follow.
In 2001, Rock got together with Sheryl Crow for the duet "Picture"- a country flavored ballad that displayed another side to his talent and started to showcase his love for country music.
Later in the year, Rock joined country legend Hank Williams Jr. on CMT's Crossroads to deepen his bond and appreciation for country music.
Since then, the collaborations have been numerous. In 2004, he inducted fellow Detroit native Bob Seger into the Rock and Roll Hall of Fame and then, a few years later, did the induction of Lynyrd Skynyrd into the hall. In 2007, he hit the road with his Rock and Roll Revival Tour with Reverend Run, Peter Wolf of the J.Geils Band, Dicky Betts of the Allman Brothers, and Lynyrd Skynyrd. Most recently Rock is featured on Slash's new album. And, earlier this week, Rock brought Bob Seger out on stage and jammed Seger's classic "Turn The Page" on the last night of his three sold out shows at the Detroit Energy Music Theater.