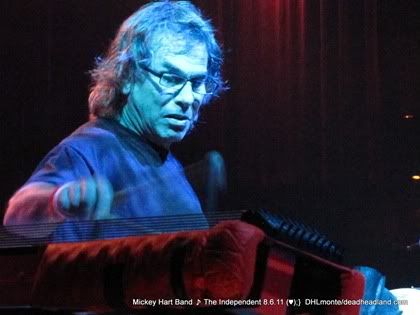 Mickey Hart brought his world renowned legacy and his world beat skills to the Belly Up Tavern in Solana Beach the night of December the 3rd. The opening beats of Iko Iko, the New Orleans anthem often covered by the Grateful Dead, lit the night's fuse, as his eight piece band went to work on delivering two spirited sets. But the show was more than just a bunch of Dead songs and covers. Hart made a point of covering a large part of the new material he's been recording while keeping the free flowing jam he is so famous for alive.
Perched behind an elaborate array of percussion instruments, Hart played the mad scientist throughout the night, mixing a blend of organic and electronic sounds and beats. He always seemed to be tweaking some knob or messing with a few foot pedals to create his desired mood. Some of the time, he would create sounds by striking a note and letting it ring out before adding another note/sound to build on the pattern. No matter what instrument he chose to feature, though, all but one song flowed into a jam, giving the band plenty of room to maneuver. Hart, who's known for classic jams and a world beat vibe, orchestrated the band through a tapestry of styles for close to three hours. When vocals were included, the songs leaned heavily on the lead vocals of Crystal Monee and Tim Hockenberry. Monee lent her deep soulful voice while Hockenberry delivered more of a Leonard Cohen vibe. Each one took turns weaving in and out of songs and adding depth to the extended percussion workouts.
The spirited crowd was on its feet dancing all night and reached a fevered pitch when Hart and band broke into a couple of Grateful Dead numbers. Even legendary basketball star and Grateful Dead fan/follower Bill Walton jumped on stage to bang a few drums during the first number. And fourth number. And seventh, and tenth numbers, come to think of it. Not exactly sure how Hart felt about the many appearances of Walton, though they seemed to do nothing to distract him from delivering three hours of good time grooves.