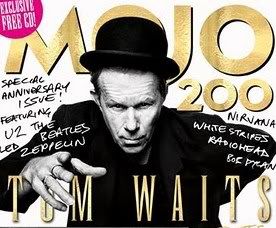 MOJO Magazine has delivered the best heaping serving of music and art goodness for 17 years, 200 issues. This UK based magazine combines classic rock tales and reviews with eclectic takes on music and the arts, featuring some of the best writers in the genre. So, when they were looking around to make a big splash to celebrate their 200th issue, who did they choose to be the guest editor? None other than Tom Waits!
Now Tom Waits took a left off the main road years ago. And, while others try to keep it between the lines, towing the straight and narrow, Mr. Waits is off in the bushes taking left after left. Waits is a one-of-a-kind character, songwriter, playwright, and actor who has taken his craft in so many directions that his influence can be felt all over the rock and roll landscape. The man is the definition of original and gives this special anniversary edition a look inside some of his favorite things.
The Waits-edited issue is chock full of the quirky things that make Waits tick. The 200th issue comes with a CD, compiled and sequenced by Waits, featuring some of his favorite artists- Bob Dylan, Big Mama Thorton, and Harry Belefonte, just to name a few. You also get a list of Waits' favorite one-hit wonders, his favorite books and movies, and a look at every album Waits has done in his illustrious career. Waits also takes over as interviewer and mixes it up with country bad boy Hank Williams III. One of the highlights of the 200th issue is Waits' opening piece about why he took the gig in the first place. Waits describes his love of music and how music has shaped his life. The piece is poignant and written in Waits' original poetic voice, capturing the theme of MOJO and its commitment to putting out one of the best in music magazines. Cheers to another 200 issues!
Here's a classic Tom Waits appearance on the Letterman show. Tom has been a guest of Dave's for years and always makes for an interesting interview on the couch.