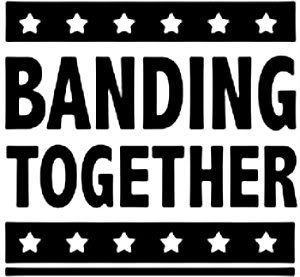 Banding Together is a local nonprofit giving music therapy scholarships, mentorships, and instruments to kids with autism and other special needs. Board member, Andrea Moriarty, knows the importance of this program more than most, as her son Reid, learned almost everything he knows through music. Andrea was kind enough to share with me about the personal effect that music has had on her son and her family and how Banding Together is helping others through the power of music.
What is the biggest change you have seen in your son Reid since he started playing music?
He was diagnosed with Autism at three (years old) and started music therapy at five. So it's been a life-long pursuit and has really become a lifestyle for him. As a pre-schooler he was very ADHD and we noticed that music would hold his attention. At first it was just building his time sitting at a piano bench, and then taking that and transferring that to school. And we noticed he would have 100% engagement if he was doing a musical activity, where as if you were trying to get him to copy the alphabet he would be all over the house.
Has Reid ever said to you what it is about music that draws his attention like that?
He is not able to articulate that, he just demonstrates it with his behavior. If we are in a public place and there is music, his ears are so attuned, he will gravitate towards the music. We would be at a play ground or a park and he would just take off and I would follow him and he would be with some person playing music.
Why is it that music works so well?
Music engages the whole brain. So with someone who has got a cognitive disability, music enables them to have a little more brain power than they would if you were just approaching them with a visual of just an auditory channel. And ironically, auditory is his weakest channel if it is just that. But music has so much more; it's got rhythms, beats, vocals and so on.
How much does music play a part in your house? And has it always been important, or did it just start when you noticed how well it helped your son.
My husband has tons of music. So Reid has gained a really wide interest in music from my husband, Jim. It's part of our lifestyle. Not really sure which came first, though. It's kind of the chicken and egg thing.
What have you learned the most from watching your son receive music therapy?
Through music and watching the teachers work with him, I have learned so much. When he was young, I mean, now, he is 17. But at an early age, when you would sing a direction to him, he would do it. At the time, if you just said it, he wouldn't acknowledge you, he wouldn't even look up. But there was a time where he learned everything from music, whether it's the planets, the alphabet, potty training, even how to eat a gluten free diet. The therapist would write these songs, and he would connect to them. And that is the magic of paring musicians up to people with autism. Music is our first language. And musicians are well-trained in a language that people with autism are fluent in. They speak the same language. It doesn't take a lot of words to engage, they can form a relationship, they can have joint attention.
And now your son is in a band – The Kingsmen. How did that come about?
It was a concept that, as the kids grow, we put together a band. And as they grew and performed, it would help them with social skills and interacting in the community. And they do that with three facilitators. And then, we started to ask as they grew towards their 20's, what are these guys going to do vocationally? So, could they learn to perform, or learn to run a soundboard, or do anything that involves music? The Kingsmen are the first, they are kind of the guinea pig in testing out this mentorship program of working with musicians. Musicians have gotten involved to help us raise money through these benefit concerts, but also get personally involved volunteering.
All of the fine work of Banding Together will be celebrated at the 2nd annual fundraiser on Wednesday, June 6th, at the Belly Up. Burning of Rome, Nena Anderson, Dr. Seahorse, and Noise in the Attic will be donating their talents and performing to help raise awareness and funds.
Troy Johnson, host of Food Networks Crave, will emcee the Banding Together show and be present with DJ Man Cat at the VIP reception from 6:30-7pm. Doors open at 7:00 and the show is at 8:00. A portion of the tickets and proceeds from a raffle and live auction will go directly to Banding Together scholarships and programs for kids with autism and other disabilities.