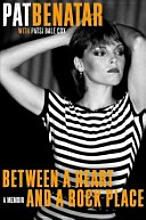 Say Pat Benatar to a group of people and see what they say.
Queen of the MTV age-
Yes, her video for "You Better Run" was the second video ever played on the station after the Buggles "Video Killed The Radio Star." And for years she rained supreme as one of MTV's most played artists.
Hot Rocker Chick-
Yes, her tight spandex and in your face attitude made her a pin-up for many testosterone filled males of the 80's.
Hit Maker-
Without a doubt, amassing millions in album sales and 19 top 40 hits.
But flip a few pages in her new autobiography Between a Heart and a Rock Place and you will get a better understanding of the depth of the woman behind the facade. You will realize that her spandex get up was nothing more than a Halloween costume with a ray gun clipped to her belt that drew such a charged response from the crowd that she decided to wear it every night. And though at first it worked to take her stagnate club act over the top, it soon became a burden for a singer who wanted to be portrayed as more than just eye candy. You will also learn early on that without her husband Neil "Spyder" Giraldo, none of this might have happened. Benatar lays it out pretty clear that Giraldo was the driving force behind her songs, even taking most of the reign in the production of the music.
Between a Rock and a Hard Place is a fairly in depth look behind the making of her music and the life she lead as music's number one female hit maker. To me, that's the best part. Getting a peek behind some of the tracks from Benatar and Giraldo breathes new life into the songs that continue to populate classic rock radio. The expected battle for respect in an industry full of men is prevalent throughout the book, making her rise to the top that much more appreciated. But, as Benatar herself says early on, this is not a book full of scandals, booze, drugs, and the usual rock and roll hijinks. This is a story of a woman and her husband's commitment to making the best music they could and delivering it with an absolute commitment to entertain. So if you're looking for a bunch of dirt on the 80's rock scene, or a book filled with sex, drugs, and rock and roll, you're only going to get one of those things. The one thing Pat Benatar has delivered for years, and delivered without apology or sacrificing what she believed in: Rock and Roll.