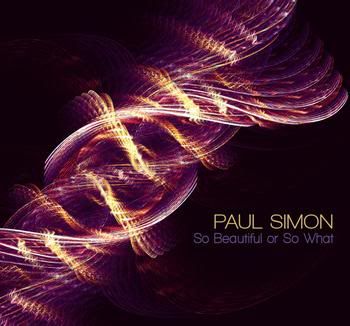 Paul Simon's got a gumbo on the stove. It's his new album So Beautiful or So What and it's bubbling with a spice rack of sounds. It's a precarious mix of African rhythms, world beats, chants, orchestral sweeps, rocking guitars, and diverse vocals. And within this fine mix of sounds lies the true secret ingredient to Simon's brew, one that he has built a career on and one that comes shining through all over this record: his poetry.
One of rock's finest poet's, Simon delivers a record that could be viewed as the distant cousin to his game-changing 1986 release Graceland. The depth in the opening number "Getting Ready for Christmas Day," a song that uses a 1941 sermon by Rev. J.M. Gates to fill out its world view theme, is a jangly number that sets the tone for the record. On the second track, "The Afterlife," Simon begins his discussion on morality, a topic that seems prominent to him at this stage in his life and one that runs through a number of the tracks. It's a trip to the other side, an off the cuff chuckle at the afterlife, interspersed with a longing for understanding the vastness to it all.
The next couple of tunes, "Dazzling Blue" and "Rewrite," hold strong to the organic combination of instruments and the fusion of intricate sounds. On the latter of the two, Simon uses his talent of turning a phrase to drop you into a father's heart and shows us a man who's longing for another crack at life and a final chance at redemption.
By the time he takes us through the fifth track, Simon has laid a strong foundation for a great record. He uses the next number "Love in Hard Times" to slow down the pace and interject another layer to the spiritual undertone that defines this album. Without missing a beat, he is back at it again with the next number "Love is An Eternal Sacred Light," cranking up the volume and tempo, as a garden hose-gone-wild guitar part sprays over the song's mantra: love.
Simon delivers one last slowed down interlude, the instrumental "Amulet" before closing the 10 track album. The first song of the last three is "Questions for Angels," where Simon takes us on a walk through the mind of a homeless pilgrim as he strolls through New York questioning his faith.
The next two numbers, "Love and Blessings" and "So Beautiful or So What," return to the up-tempo full band, world beat sound that makes this record so enjoyable. The apt title "So Beautiful or So What" can be seen as a humble metaphor to Simon's overall theme on the record. Woven into the tracks is such beauty, presented in such a fluid way that it never overpowers you with the message. It's delivered as only Simon can–with true heart and beauty.