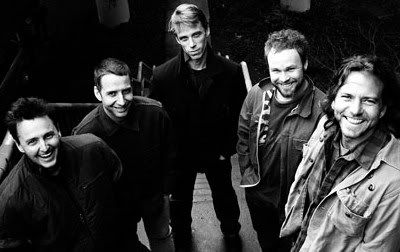 Eddie Vedder burst on the scene as a complicated, angry, serious poet fueled by youth and a loud guitar. Over the years his lyrics have expanded, and the depth of his desires and dreams have been awakened. Had a great time rummaging through all his lyrics and came out the other side with an even deeper appreciation for the span of his talent as a lyricist.
1.  Leash
"Troubled souls unite, we got ourselves tonight. I am fuel, you are friends, we got the means to make amends."
Eddie Vedder can bring a crowd together like no other. He has a rallying cry mixed into his lyrics that inspires and unites. Don't believe me? Check out a Pearl Jam concert and then let's talk.
2.  No Way
"Here's a token of my openness, of my need to not disappear."
Eddie has a subtlety that he uses to convey his vulnerability. He can lay himself out for all to examine. Lyrics that let us peek into a slice of an artist's soul are always the ones we remember most.
3. Gonna See My Friend
"Do you want to hear something sad? We are but victims of desire."
Vedder has never shied away from making a strong statement about what he believes to be a discrimination against anyone or anything. His voice is loud to those wandering through life, his message of "Wake Up!" resonates throughout his music.
4. Even Flow
"Freezin', rests his head on a pillow made of concrete, again."
One of his early lyrics he is most famous for shows a young man coming into his craft as a gifted writer and observer of the lives being lead in the shadows.
5. Wishlist
"I wish I was a neutron bomb, for once I could go off."
Eddie Vedder's lyrics pack a wallop. They are in-your-face, bombastic and true. His energy for life and living jump from his words.