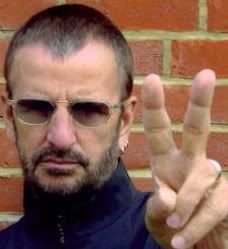 Today, in New York City, Ringo Starr turned 70. A few years ago, Ringo was asked what he wanted for his birthday, and he answered "peace and love." Since then, every year in Time Square, Ringo throws a Peace and Love celebration encouraging people across the world to shout out "peace and love" at high noon.
After the mid day salute today, Ringo made his way to Radio City Music Hall for a show with his current rendition of the All Star Band. This year's ensemble, his 11th All Star Band, features Edgar Winter, Gary Wright, Richard Page, Wally Palmar, Rick Derringer and Gregg Bissonette. Also featured at the birthday concert was a surprise appearance by Beatle band mate Paul McCartney who came out and sang the Beatles' "Birthday" with Ringo on drums.
Peace and Love, Ringo! Peace and Love!