The rock and roll supergroup doesn't come about very often, but when it does, it leaves rock with unforgettable moments. Over the course of the last 50 years, music has seen the melding of rock and roll superstars' work, only in short bursts, before it disappears into rock lore. The fine balance of one's creative vision combined with another's creative vision can sometimes create genius. But, for how long?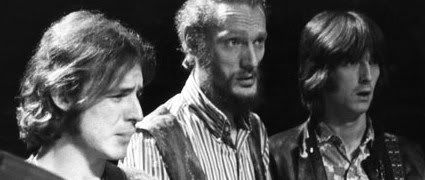 In 1966 Eric Clapton was being hailed as a god for his fiery guitar work in John Mayall's Bluebreakers. But, Clapton was feeling stifled and was looking for his next creative venture. After a John Mayall gig, he met drummer Ginger Baker. The two hit it off and started tossing around the idea of starting a new band. Baker, who had played with bass player Jack Bruce a few years earlier, was Clapton's choice for the third member and would only agree to the pairing if Bruce was on vocals and bass. Though the relationship between Jack Bruce and Ginger Baker was tentative at best, they put aside their differences with the chance to form the power trio.
In 1966 the first super group, Cream, released its debut album Fresh Cream. Fresh Cream was a collection of blues tunes with a few originals sprinkled in. It wasn't until Cream's second album Disraeli Gears that the band broke through on the charts. And, it wasn't until their third release, the 1968 Wheels Of Fire album, that Cream topped the charts. By then the band was known for its ability to stretch out their songs into 20 minute jams and became  a force to be reckoned with on the live scene. The hits "Sunshine of Your Love," "White Room," "Badge," "I'm So Glad," and "Toad" became staples of their rock repertoire, catapulting them into supergroup status. Unfortunately, the constant touring and constant bickering between Bruce and Baker lead to their demise.
In 2004, Cream finally re-united for a few shows and released a DVD from their four nights at the Royal Albert Hall. This blistering set, featuring signature songs and insane guitar from Clapton, reminds everyone of the power and grace of the original supergroup.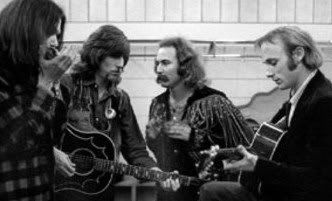 Following on the heals of Cream in 1969, three pretty famous rockers asked another famous rocker to make their trio a foursome. David Crosby, Graham Nash, and Steven Stills were already doing the folk rock thing with some success, scoring two top 40 hits on their debut album, when they decided to ask Neil Young to join the band. With Young in tow, the new supergroup headed to a farm in upstate New York to perform. Completely unaware of what they signed on for, Crosby, Stills, Nash, and Young played only their second gig ever in front of 500,000 people at Woodstock. With their immortalized version of the Joni Mitchell penned "Woodstock" as their anthem, C.S.N.Y. was just getting started. Their debut album Déjà vu released in 1970 and spanned numerous hits, placing the supergroup at the top of the charts. The foursome would soon split up but then try it again a few years later, only to be side tracked by infighting and personal issues. In 1988 they recorded again, releasing "American Dream" to mild success. They have remained friends nevertheless and have popped up on stage with each other over the years and even toured together as recently as 2006.
Twenty years from the inception of C.S.N.Y., George Harrison, Roy Orbison, and Jeff Lyne are hanging out. They stop by Bob Dylan's Malibu home to record a B-side for the new George Harrison single, but oops! George forgot his guitar at Tom Petty's house. So now we have an ex-Beatle in Harrison, rock's greatest songwriter and poet in Dylan, a rock and roll hit machine in Petty, a golden oldie in Orbison and a hotshot producer, ex-rocker himself, Jeff Lyne, all in the same room. SHAZAM! It's the supergroup of all super groups! Dubbed the Traveling Wilbury's and releasing two hit records, the band instantly became a fan and critic favorite. They picked up a Grammy for best rock performance by a duo or group in 1999 and were all set to hit the road. Unfortunately, the untimely death of Roy Orbison stunned and silenced the supergroup, putting an end to the greatest coming together of rock and roll talent the music world has ever seen.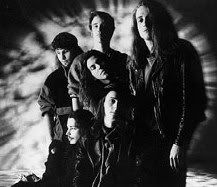 A few years later, there was a new sound coming out of Seattle that re-awoke the music industry and moved the rock world forward. The leaders of this new "grunge" sound united and formed the band Temple of the Dog. The band was started by Soundgarden front man Chris Cornell as a tribute to his deceased friend, Andrew Wood, of Mother Love Bone. It featured members of Pearl Jam–bassist Jeff Ament and guitarist Stone Gossard, along with ex-members of Mother Love Bone. The debut album, released in 1991, was largely ignored until Pearl Jam leaped to stardom later in the year. The band never toured, leaving their stamp on the rock and roll supergroup with a one-off classic rock album.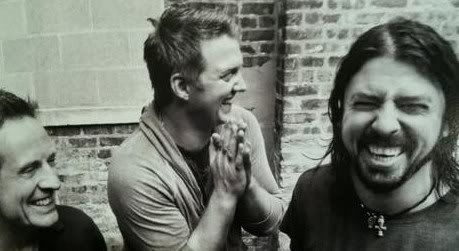 Jump ahead another ten years to 2009 and another fellow from the Seattle scene conjures up the latest version of the supergroup. Dave Grohl, drummer for Nirvana and the lead man for the Foo Fighters, gathered Queens Of The Stone Age guitarist/singer Josh Homme and legendary rock god John Paul Jones from Led Zeppelin and formed Them Crooked Vultures. Another power trio supergroup emerges on the scene with a loud, brash approach. They released their self-entitled debut record and quickly hit the road wowing critics and fans alike. As the Vultures continue to tour the world, there is already talk of a second record. Hopefully, we will hear from them again, and hopefully, we won't have to wait another 10 years for the next incarnation of the supergroup.