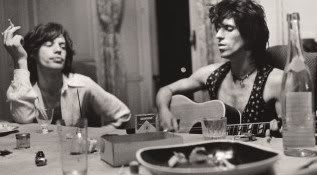 On May 17, 2010, the Rolling Stones re-issued their 1972 masterpiece Exile On Main Street. Within the first week of release, the album sits atop the UK charts, becoming the first Rolling Stones record to achieve number one status since the 1994 release Voodoo Lounge. 
The album, composed of songs written and recorded from 1968 to 1972, features a ragged blend of raunchy rock, down home blues, some sweet soul and R&B, and a smattering of country. Sloppy in parts, it is a completely unpretentious effort from the songwriting duo of Jagger and Richards and truly documents a time when the unpolished sound of a rock record was something to be cherished. The double disc, at first challenged by critics, became one of the band's most heralded efforts. The re-issue, coming on the heels of a massive press blitz by the band, contains 10 new tracks left off the original.
Host of the Late Night Show, Jimmy Fallon, was so jazzed with it that he dedicated a whole week of his show to Exile On Main Street. Each night a new artist took  a run at a tune from Exile. Artists such as Phish, Sheryl Crow, and Keith Urban all pitched in to celebrate one of the Stones' most popular releases. Never ones to shy away from the spotlight, both Mick and Keith appeared on the show, with Keith even grabbing a seat on the couch for a brief interview with Fallon. Since then, Mick and Keith have been doing the rounds with drummer Charlie Watts to promote the re-issue, giving us all a chance to re-live one of the Rolling Stones' finest moments.