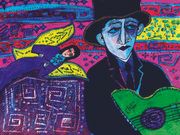 One of the first things Roy Ruiz Clayton said to me when I sat down to interview him was "songwriters only have a minute number of really good songs in them." His new album New Army of Ragged Angels is a testament to that belief. Not that I don't think Roy is capable of creating more lyrically driven gems, but the 8 songs that make up the album leave nothing behind. Each one of the songs is a fully fleshed out story driven by his ability to twist a mean tale. So why did he wait so long into his career to record a full length record? "I was waiting for someone like Chris Goldsmith," he told me. "Chris is probably the most unknown Grammy winning producer out there. I've known his family, used to shop in their store in Leucadia for years. So I've watched Chris grow up, and I waited for him to be old enough to produce my record. He's very unpretentious. I thought I knew a lot about making a record but I was wrong. Chris wanted a real raw sound, and he got the best out of me."
Not only did Roy pick a producer with a fine pedigree, (Goldsmith has worked with the Blind Boys of Alabama, Chrissie Hynde, Aaron Neville, Shelby Lynne, Charlie Musselwhite, and George Clinton), but he also put together an all-star line up to play on the record. The album features Marc Ford of the Black Crowes, Jason Yates of Ben Harper's Innocent Criminals, and Victoria Williams.

What did you enjoy most about making this record?
"It was fun to see how the different musicians work. Victoria Williams was very particular to the mood she wanted to create and how she would go about recording her part. And Marc Ford–I have been around a lot of great guitar players and can figure out most of what they are doing, but Marc shocked me with how good he was."

Speaking of famous producers, T-Bone Burnett himself (producer to Robert Plant, John Mellencamp, Jacob Dylan, and Los Lobos, to name a few) has even come out and said that your song "Everyone's A Detective" is "one amazingly beautiful song." How did this come about? Did you send him a copy of "Everyone's A Detective"?
"No, I'm not sure how he stumbled upon the record. I just got a letter from him complimenting the songs and saying maybe we could work together some time."

Your black and white video for the gorgeous "Everyone's A Detective" is filled with a lot of film noir imagery. Did that type of film inspire the song?
Yes, it came from watching detective movies as a kid and reading a lot of Raymond Chandler books. That was a big part of the inspiration.


Your lyrics were the first thing that grabbed me on this record. Is it lyrics first for you when crafting a song, or does it come from melodies then lyrics.
Mixture- but it's always about the lyrics. I really wasn't one of those guys who could play other people's songs. I could figure them out, but I would just wreck them, so it became more about writing my songs. No matter what people say about me, about my guitar playing or singing, I want it to be that the songs can't be denied.

You are also a painter. Do your songs inspire your paintings or does your painting help further your songs?
Real separate. Lately, I've been mixing poetry and lyrics into the paintings. Painting is something I have always done. It's more freeing to me; a great painting you can never back away from. Songwriting, on the other hand, is one of the hardest things I have ever done.

What is your ultimate goal with this record? How do you determine if it's successful? Does it have to sell a certain amount or garner a certain response?
"I really wanted it to be put out by a label, so I went with sonaBlast. Just having it on a label makes it a success for me. It would also be nice if some else covered my songs, did something else with it and to it, and then people would come back to the record. Especially 'Everyone's A Detective.' I would love to have someone cover that."
You can catch Roy Ruiz Clayton featuring songs from New Army of Ragged Angels October 13th as he opens for Steve Poltz at the Belly Up Tavern.