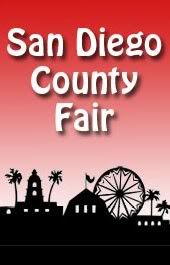 The curtain has been pulled back for a look at the 2011 main stage performers at this summer's San Diego County Fair. This year's line up is fairly diverse, offering a few country legends, a trio of rock and roll high priestesses, some comic relief, a popular new comer, local rockers, and a handful of classic rock bands, to name a few. Here's a week to week look at this year's line up.


Week one: Friday June 10 – Friday June 17
Kicking off the year on the Heineken Grand Stage  June 10th will be one of rock and roll's most decorated female artists, Pat Benatar. Since the moment she first hit the scene back in 1979,  Benatar and her lead guitarist/main songwriter husband Neil Giraldo ruled the airwaves. Benatar and Giraldo have been rocking ever since and are a must see right out of the box for this year's line up. The next night Bruno Mars and Janelle Monae bring their Hooligans in Wondaland Tour to the fair. For anyone who watched the Grammy's this year, you will remember Mr. Mars' spirited performance, one that could make this night a special evening for these relatively new artists. Tuesday, June 14 is a middle of the week don't miss R&B funk rock explosion as Lenny Kravitz makes his way to San Diego.
Wednesday night, June 15th the mood gets lighter when Weird Al Yankovic drops his quirky parodies on Del Mar. After that, the first of the fair's country legends has Randy Travis performing on Thursday, June 16th. If you like country, this will be the place to be to enjoy the golden voice of the multi-decorated Grammy winner Travis.


Week Two: Friday June 18 – Friday June 24
The following Friday night brings local heroes Switchfoot to the main stage. The founders of the yearly San Diego Bro-Am will be kicking off the weekend giving the hometown faithful a night full of hits. Melissa Etheridge takes on Saturday night with her always spirited rock and roll show that relies heavily on her catalog of hits and a passion for delivering them with every ounce of energy she can muster. Classic rockers the Doobie Brothers offer a mid week Tuesday show June 21st full of classic rock staples. The next day features the Neon Trees and their more modern rock sound. The following night, Thursday June 23rd, Del Mar is visited by country royalty. Willie Nelson will grace the stage bringing with him six other country acts including his son Lucas, who played the Solana Beach Fiesta Del Sol last year.
Willie needs no introduction and can quite possibly be the highlight to this year's line up.



Week Three: Friday June 24 – Friday July 1
The fair's third weekend is rounded out by the 7th Annual Gospel Festival featuring Kirk Franklin starting Saturday night. Then, it's another country ho down with Travis Tritt and Charlie Daniels on Tuesday, June 28. The final mid week shows are being performed by the legendary Beach Boys before handing it over to Joan Jett who has closed the last few years with her bad attitude rock.
Grand Funk Railroad was a late addition to this year's line up but serves as a great old school rock and roll close to the last few shows on Saturday, July 2nd.
This year, the Fourth of July honors go to REO Speedwagon who have enough classic rock hits to fill up anyone's Fourth Of July dance card.
Looking forward to some hot summer nights, my girl on my arm, some fried, greasy something or other, and a whole lot of great live music!