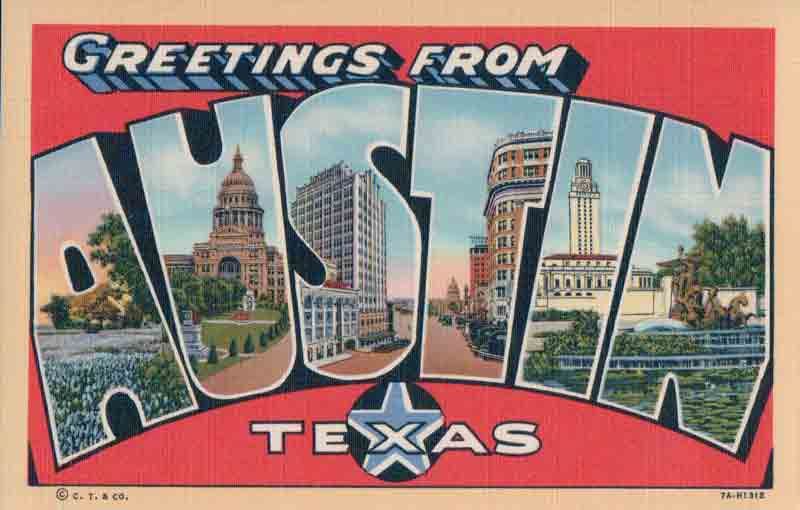 During the week of March 9th through March 18th, the music world descended on Austin, Texas for South by Southwest. We posed 5 questions to the San Diegans who made the journey and lived to tell the tale. Some of the tales are twisted, some make sense, some don't, some are insightful, some make you think, and some are just down right disturbing.
The questions:
1. Best advice you were given (could be about your music or where to get the best food, or where to find a bathroom)
2. Best advice you would give someone going to SXSW
3. Best band or musician you heard
4. Best thing you saw, other than music
5. Best thing you overheard someone saying
And answers:
Beth Bennett (Director of Special Events – Belly Up Tavern)
1. Wear comfy shoes
2. When trying to sneak into VIP, act like you belong and pretend to be media.
3. Two faves- Tom Morello and Mumford & Sons
4. Mckinley state park- went on a hike with my brother
5. Someone was giving out hand jobs to get into VIP.
Little Hurricane
1. Don't try and do too much
2. Don't get discouraged- there are opportunities everywhere, even if it doesn't feel like it
3. The Electric Hearts from Nashville
4. View of the city from a Riverboat
The Silent Comedy
1. "Go big!" from our manager, Bruce Flohr. Kind of applies to everything SXSW related.
2. Drink lots of water. Put in-soles in your shoes. Be nice to the sound guys. Don't make a schedule or plan of what you would like to see, or who you would like to meet up with. The best things at SXSW are unplanned.
3. This year it was probably Henry Clay People. They put on a sweaty, awesome, punk show. We also played with some of our favorite friends/bands Alberta Cross, Kopecky Family Band, Alabama Shakes, Lucero, I Am John Michael, Gary Clark Jr, The Roots, etc.
4. Our friend Alexander Antebi, of Conquistador, exposing the SXSW world to his other-worldly fashion sense.
5. Hmmmmm… Can't really remember anything. My head was too much of a mess.
Drew Douglas (grampadrew)
1. Venture away from 6th St. There are some really good bars on Rainey St. and East Austin is coming up as the latest developing place to be. South Congress (SoCo) has a lot going on as well. The other big one is that day parties are where it's at. There are a lot of free shows during the day where you can see the same bands that showcase at night, quite often with much less crowd-hassle. For the past two years, we've gone without a wristband or badge and found plenty of great music to see.
2. Getting a cab out of downtown at 2am can be brutal. But there is a Texaco station at the end of E. 7th near the I-35 where the cabs pour off the freeway heading into town. There will still be competition, but the number of empty cabs makes it much easier. Plus you can grab some snacks and a drink at the gas station for the ride home (or if the night has been especially good to you, some gum and a condom).
3. There is so much amazing music, this one is really difficult. Dinosaur Jr. was on fire the night I saw them. San Diego musician, O, was doing their sound, so a tip of the hat should go his way. The Ben Miller Band was a new discovery for me and they were pretty phenomenal too. They have a one-string washtub bass, slide trombone, spoons, cool foot percussion from the lead singer, and all kinds of other crazy home-made instrumentation. But most importantly, beyond all that, they write really good songs. I had never heard of them before SXSW, and this is why I love coming here.
4. Hmm, was it the bloated white dude in a lime-green Borat thong dancing to the music of a handlebar mustachioed one-man busker in the middle of 6th street? Oh wait, you said best, not scariest. I guess it would be the awesome array of cowboy boots and snap-shirts, in the shops around SoCo. I found a sweet pearl snap with Sasquatch embroidered on it that was particularly alluring. It doesn't quite have the class of the Borat thong, but it's a tad more versatile.
5. I could make something up, but honestly, amid the constant cacophony of idiocy, nothing singular stood out. At least not enough to break through my inebriated filter.
Tim Pyles (94.9)
1. My best advice is when looking for a clean bathroom, look for one in a nice hotel lobby.
2. Wear comfy shoes!
3. Future Of The Left
4. Chicken Shit Bingo at Ginny's Little Longhorn
5. Santorum is a slang term for a post coital anal sex discharge
Nena Anderson
1. How to sneak into a 'badge only' party
2. Wear comfortable shoes. And deodorant (please).
3. Band called Waters
4. Mural of Willie Wells by Tim Kerr
5. Overheard? Most places it was…was too loud to overhear anything!
 Family Wagon
1. Prepare for anything to go wrong. Because everything will go wrong.
2. Don't try to drive through the night to make it back to work because you will be caught in two storms and the wrath of God will hunt you down and turn your 22 hour drive into a 36 hour drive.
3. Strange Vine
4. Stubb's ribs on my plate
5. "Come to our show! We're better than your band!"
Chris Bowling (Dead Feather Moon)
1. SXSW was absolute chaos. Picture San Diego Street Scene times 15. The best advice I think I received was the experience in itself. There was no one person to give me a secret piece of knowledge. It was more of bits and pieces. I think we know now how to do it next year.
2. Whatever you expect, multiply it. Or scratch that, you'll just be shocked. Especially if you've driven the whole way. However, everyone I met was incredibly hospitable, so if you're in need of anything someone will be willing to help you out.
3. So many bands. Some good some bad. The most enjoyable to me was Family Wagon's set at a house party. SD bias….no.
4. On our way out, we met a young lady in a town called Junction who hadn't seen many out-of-towners. We walked in to this establishment and the first thing out her mouth was, "hmm interesting." The next bit was straight out of a movie, "Ya'll ain't from around here." She was such a sweetheart. We gave her some CD's and we were on our way.
5. Greg and I were walking down 6th (if you've never been to SXSW, 6th is were it goes off) and I looked up from a text I was sending and saw a sign that read "will flash for $". Then met eyes with the sign holder who said, "You're a pretty boy, you won't pay, fuck you." I don't think she made much money.
Rosemary Bystrak (San Diego: Dialed In)
1. The best advice was probably when Ryan Blue told me where and when to catch the next bus to Sahara Lounge, where we were hosting a showcase. Last year I mostly walked and spent stupid amounts of money on cabs and pedicabs. By taking it this first time, I repeatedly used the bus throughout the week, and for just $2 for a day pass, I probably saved a lot of money. I also met interesting people on the bus and got some Austin history and a bit of a tour with a nice driver and a couple locals.
2.Don't search for the next great party. If you're having fun where you are, you might as well ride it out. If you're not, move on and find something else random. You can RSVP to everything, but don't expect to even hit a quarter of what you think you're going to go to.
3. I was mostly with San Diego bands throughout my trip and didn't see a lot of new bands that I hadn't seen before, but the Jack White show was pretty amazing, and I got to shoot the Mumford and Sons show and I've been a fan since their first US show at the Troubadour a couple years ago.
4. I liked running into random San Diego friends everywhere I went. Lots of celebrity sightings at the Jack White show kept Friday night interesting. Bill Murray, Jason Sudeikis, and James Mercer were all just a few feet away as I watched the show.
5. I loved the band banter on the ride out and back. I was with The Heavy Guilt and Al Howard is funny with his random quips on hipsters and I learned that Sean has a tramp stamp. I probably am not supposed to share that. Oops.