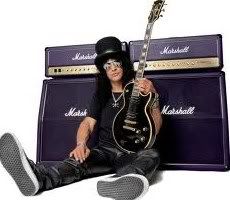 One thing you have to say about Slash is that he is not slowed by adversity.
After riding the rock and roll crazy train that was Guns and Roses and splitting with the world's biggest rock band, he formed Velvet Revolver. And, as if dealing with Axl Rose wasn't hard enough, Slash and his new band welcomed all the madness that was Scott Weiland as their new front man.
Slash endured, kept rocking, and finally pulled the plug on a few years of decent rock and roll after Weiland decided to get back together with his old band Stone Temple Pilots. Never one to just wait around for his next move, Slash decided to keep rocking with a collection of songs featuring a collection of lead vocalists. His new album was released in the summer of 2012 and features the vocal stylings of Iggy Pop, Ozzy Osbourne, Chris Cornell, Rocco Deluca, and Myles Kennedy, to name a few.
BBelow is the first single "Back from Cali" from Slash's new band, featuring the lead singer of Alter Bridge, Myles Kennedy on lead vocal. Slash was so impressed by Kennedy's vocals that he enlisted him to front his current tour. One listen this to the Alter Bridge's lead vocalist and you get why Slash has pushed this guy out front. Slash recently told Spinner, "Myles is phenomenal and sings everything from this record to Guns N' Roses albums to Velvet Revolver and Snakepit stuff as well, so that's really cool."