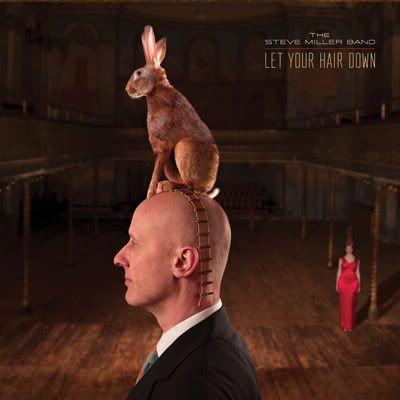 Steve Miller has always been a blues man. It's just that he can take the blues and put a shine on it so that it comes through the speakers sounding like a rock and roll radio hit. He's so slick that when he plays the blues, like he does on his new album of blues covers entitled Let Your Hair Down, that it might take a few tunes before you realize it's him. It's not until his signature layered vocal steps up in the second song "Got Love If You Want It" that you know for sure you are listening to a Steve Miller record.
And as far as blues cover records go, this one has enough luster to separate itself from the standard safe approach most take when covering the blues. Miller is having fun here and it comes through without trying to over step these classics and make them something they are not. He finds a way to modernize these songs without losing all respect for what makes these songs great. And even though we've heard them many times before, especially Robert Johnson's "Sweet Home Chicago," Muddy Waters' "Can't Be Satisfied," and Johnny Moore's "Driftin' Blues," which features vocalist Sonny Charles, the performances are a fresh breath of inspiration.
The album also features some of the last recordings from harmonica virtuoso Norton Buffalo, a long time collaborator of Miller's. Buffalo takes a few passes on harmonica that really shine, especially "Just A Little Bit" where his signature sound is recorded one last time before his untimely death in 2009 from lung cancer.
Steve Miller's new CD has enough flashy guitar, down home rhythms, stellar harmonica, and good time material to make Let Your Hair Down a part of any blues fan's collection.