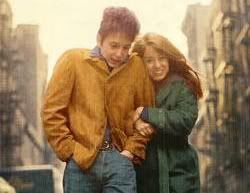 Suze Rotolo, unknown to most, though immortalized on the cover of Bob Dylan's Freewheelin' album, might have played one of the most significant parts in the history of rock and roll. Living in New York city in the early 60's, Rotolo met and befriended a young man from Minnesota named Robert Zimmerman. Zimmerman was in town with his guitar, harmonica, and the new alias of Bob Dylan.
During their courtship, Dylan wrote the bulk of his formative year material from 1961 to 1964. Rotolo, at the time, was working with a civil rights group and introduced Dylan to social activism, a change in head space that seemed to catapult Dylan's socially conscious writing. Many of Dylan's early ballads were written for Rotolo from "Boots of Spanish Leather," "Tomorrow is a Long Time," and "Don't Think Twice It's Alright." Rotolo is also credited with inspiring the social commentary's "Masters Of War" and "The Ballad Of Emmett Till." Rotolo passed away this week at the age of 68, leaving behind a legacy as one of rock's greatest supporting actresses. Below is a list of my top 5 all time rock and roll couples.
5. Kurt Cobain and Courtney Love
The turbulent grunge super couple of Cobain and Love seemed to make headlines every other day during Nirvana's rise to stardom. Though fighting addiction, depression, and anyone who seemed to get in their way, they held strong to each other till Kurt's untimely death. You can't deny the influence that they had on eachother's music, or the influence they had on the music scene in the late 80's to the early 90's.
4. Paul McCartney and Linda McCartney
Paul and Linda were together for 29 years. During that period of time, Linda became a part of McCartney's solo efforts after the Beatles. She contributed keyboards and vocals to McCartney's band Wings and even received co-writing credits on a few songs. Unfortunately, their marriage was cut short when Linda passed away in 1998.
3. Johnny Cash and June Cash
The legendary country couple, Cash and June Carter Cash, recorded together for over 30 years. Their union created a coming together of two of country's greatest talents. June was an established singer with her family when she and Johnny first started recording together and from the moment they met and started working together, they accumulated numerous hits and awards. Johnny and June partnered up until their final days before passing away within four months of each other in 2003.
2. Tom Waits and Kathleen Brennan
Waits and Brennan have been in collaboration on records and musicals for over 20 years. Throughout those years Waits has credited Brennan as co-writer to many of his songs. Waits has also credited Brennan for creating a shift in his musical style, taking his drunken piano serenades and expanding them into a no holds barred musical circus. Maybe not the best known of the couples listed but definitely one of the couples that has produced the most significant amount of viable work together.
1. John Lennon and Yoko Ono
Together, Lennon and Ono became synonymous for more than just music, but as a worldwide symbol for peace. After all the hype from the Beatles, and all the noted separations, they became rock's greatest couple. Aside from the anti- war and peace movements they were involved in, Lennon and Ono collaborated on 6 different records that secured Lennon's status as a viable voice in music apart from his work with the Beatles.