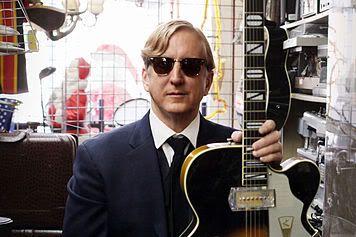 T Bone Burnett has been subtly putting his touch on records for over 30 years. With humble beginnings playing in bands, his most famous juncture was his time spent with Dylan's Rolling Thunder Revue. But what has set him apart from the rest are his production efforts over the years.
T Bone-produced records are some of the finest works in a long list of artists' careers. Robert Plant, Los Lobos, Roy Orbison, Counting Crows, Wallflowers, John Mellencamp and many more owe much of their success to the Burnett-produced records. Burnett has also contributed his production skills to a number of soundtracks, most notably, O Brother Were Art Thou, Crazy Heart, Roy Orbison's Black and White Night, and Spinal Tap, to name a few. Here's a top 5 of my most favorite produced T Bone Burnett projects.
5. Wallflowers - Bringing Down The Horse
He took a kid who lives under rock's greatest shadow in Jakob Dylan and gave him his own voice. The Wallflowers' sophomore effort, the 1996 Bringing Down The Horse catapulted the band onto mainstream radio and legitimized the young Dylan's talents. The album is not only chock full of hits but also begins to display depth in Jakob Dylan's writing ability. Unable to recreate another record that could stand in with Bringing Down The Horse, Dylan once again turned to Burnett to produce his 2010 release Woman and Country.
4. Counting Crows – August and Everything After
Like the Los Lobos record, this first from the Counting Crows exploded the band into the limelight. The deep writing and monster hit "Mr. Jones" put this album on the radio where it has remained for years. Lead singer Adam Dunitz's infectious vocals gave T Bone Burnett a perfect focal point that he surrounded with the band's melodies.
3. John Mellencamp – No Better Than This
After all the hits and the driven-into-the-ground radio songs, Mellencamp has retreated to a more rootsy, bluesy, laid back vibe for his records. No longer obsessed with a hit, Mellencamp and Burnett took a step back and placed Mellencamp in an environment that fits his new approach.  On No Better Than This, sessions took place at three historic locations:  San Antonio, Texas in room 414 of the fabled Gunter Hotel, where the legendary Robert Johnson recorded; Savannah, Georgia at the First African Baptist Church, the first Black church in North America; and Memphis, Tennessee's famous Sun Studios.
2. Robert Plant and Alison Krauss – Raising Sand
A slow, soft paced sound put all the emphasis on the vocals of Robert Plant and Alison Krauss as they melded their talents to produce this highly acclaimed record. T Bone had these two perfectly aligned with material that really stretched the two singers, especially Plant. Raising Sand seemed to give Robert Plant a new platform (as opposed to his mantle of rock god) and a different direction that supported his approach to music as he moved on in life. Plant and Krauss started a follow-up to Raising Sand but it never seemed to get off the ground. The sequel is on hold for now as Plant and Krauss continue to explore different avenues.
1. Los Lobos – How Will The Wolf Survive?
The critics lost their collective minds over this record released in 1984 from the young East Los Angeles band Los Lobos. It was a Tex-Mex sound unheard of at the time, from a band that seemed wiser beyond their years. Accordion, saxophone, violin, driving guitar, and songs that resonated deeply placed this record on many must have lists throughout the 80′s and 90′s. On How Will The Wolf Survive?, Burnett captured a true snap shot of the early stages of one of America's finest bands.