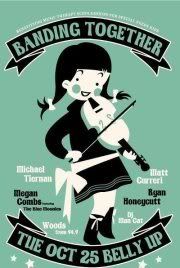 Meryl Klemow of the Belly Up is passionate about music. Follow her witty Facebook posts or watch her staff pick videos and you'll easily be sold. So, when she asked me to come down to the Belly Up last Friday to tell me about Banding Together, I knew that it was something that really meant a lot to her. Banding Together is a local organization that gives music therapy scholarships, instruments, and mentorship with local musicians to eligible kids with special needs like autism and Down syndrome. How could I say no to that?
"Obviously, we would love it if the community came out and donated a bunch of musical instruments," said Meryl. "We would love to make this a yearly thing where people, by donating instruments, can support Banding Together." But, the Belly Up also wanted to take it one step further. For those who don't have an extra instrument but still wanted to show their support, the Belly Up did what they do best, they booked a great live show. "A dollar for every ticket sold goes to Banding Together," Meryl told me. "And we wanted to find the right person to host the event, someone with a personality that fits the show, and I instantly thought of FM 94.9's Woods. So, I called him up and started to explain what we were doing and before I could even get half way through explaining it to him he said yes! We also wanted to pick artists to perform that really go well together. We really think Matt Curreri, Michael Tiernan, Megan Combs, Ryan Honeycutt and DJ Man Cat really fit and make for a great night. If you can't come to the live concert, or if you don't have a musical instrument to donate, just buy a ticket and show that the Belly Up audience supports Banding Together."
To me, this was Meryl's message. She really believes in the people who support the Belly Up and knows that whatever they can do to help Banding Together, they will.
Belly Up will be collecting instruments from 12-5pm every day of the week from Monday, October 24th to Friday, October 28. All rhythm and percussion instruments will be put to good use in drum circles and weekly therapy with kids 3-13. Guitars, bass, acoustic and electric, as well as drum kits, would be useful for the teens in adaptive bands to practice social skills. Amps and keyboards are needed, too. Banding Together hosts a series of Youth Helping Youth coffeehouse gigs and needs mics, mic stands and portable PA systems for those shows.
You can learn more about Banding Together here.