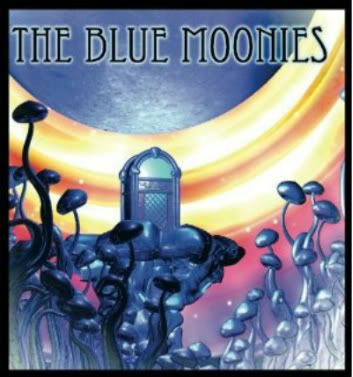 As evident on their self-titled debut record, The Blue Moonies have a few different gears that they like to maneuver their music through. The navigation of the different styles–reggae, soul, funk, blues, and rock–gives the band a chance to show off their diversity, and also gives the album some depth, allowing the 11 song collection a chance to breathe.
The opening number "One For The Road" starts the album off with a reggae vibe. The up tempo, bouncy rhythm is a lively number that sets the pace and introduces the reggae feel that pops up more than once throughout the record. Track two "The Spark" quickly displays how much soul this band can interject into their music. It also is the first taste of the Moonies' love of the jam. After lead vocal/guitarist Tom Mitchell drops a tasty guitar solo (think Allman Brothers meets Grateful Dead), keyboardist Jody Bagley takes a turn and whips up a swirling keyboard treat. By the third track "Santa Marie" the band goes for fifth gear, ratcheting up the tempo and launching into a full out rock jam.
After putting the band through the paces in the first three songs, the next two numbers–the reggae "Criminal" and the fun surf rock instrumental "Papa Smurf"–ease up on the volume and serve as a nice mid-point interlude.
Probably the most precarious number comes up next in the delivery of the sixth track "Celebrate The Sun." Starting slowly, the song is a ballad that features Bagley's fine touch on keys. Midway through the piece, the band nudges the tempo and before you know it, the groove is up and the mood has changed.  The band continues the back and forth of the chorus before landing back to the opening ballad feel and closing out the number.
Track seven, "Rubble Dubble" is my favorite type of Moonies groove. Though an instrumental, the number gives everyone in the band a chance to flex their musical muscles. It's a wide open piece that really gives you a glimpse behind the band's talents. Mitchell touches a lot of bases with his guitar solos, leaping and lunging and blasting away as he goes back and forth with Bagley's funky organ riffs. Two more extended jam pieces close out the record–the six minute "Freeman" and then, the eleven minute "Pictures"–further amplifying the Moonies' penchant for the groove, and closing out the record on a high note.
The band consists of Tom Mitchell: Guitar (acoustic), Guitar (electric), Vocals | Jody Bagley: Keyboards, Vocals | Jason Simmons: Bass guitar, Vocals | Tristan Faulk-Webster: Drums.