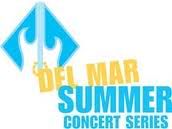 The 2011 Del Mar Concert Series–the popular Friday night after the races throw down–has unveiled this year's music lineup. Pay the admission to get into the race track, bet on a few ponies, and then enjoy the show. Or arrive after the daily race card and pay 20 bucks to just see the bands. Either way, it's a good time in Del Mar all summer long.
July 22 G Love and Special Sauce
July 29 Black Rebel Motorcycle Club
July 30 Ziggy Marley
Aug 5 The Bravery
Aug 6 Weezer
Aug 12 Jimmy Eats World
Aug 19 Devo
Aug 26 The Airborne Toxic Event
Sept 2 Fritz and The Tantrums
Sept 4 Ben Harper
The concerts are always a great draw and have been reeling in some big name acts over the years. Here's a look at who has played the Del Mar Concert Series over the past five years.
2010
Pinback
Common Sense
The B52's
The Soft Pack
Jimmy Cliff & Matisyahu
Ozomatli
Weezer
Super Diamond
The English Beat
ZZ Top
2009
G Love & Special Sauce
The Wailers
The Airborne Toxic Event
Common Sense
The Flaming Lips
Pinback
Steel Pulse
Super Diamond
Peter Yorn
Ziggy Marley
The English Beat
2008
Gavin Rossdale
Super Diamond
Gnarls Barkley
The Bravery
Ziggy Marley
The Wailers
Frank Black
Steel Pulse
Devo
Dave Wakeling
2007
The Unwritten Law
Satellite Party
Common Sense
Violent Femmes
The Cult
Pinback
Cake
Peter Yorn
Ziggy Marley
Angels & Airwaves
2006
The Flaming Lips
Violent Femmes
Common Sense
Pinback
Billy Idol
Alice In Chains
Matt Costa
Jimmy Eat World
Louis XIV