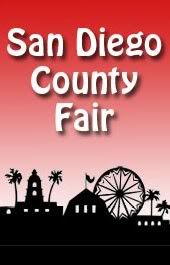 Top 5 Must See San Diego County Fair Heineken Grand Stage Bands
5. Doobie Brothers
A lot of classic rock hits were recorded by the Doobies over the course of their long career, so this should be a good night of rock and roll. Every time I have seen them, though (and it's been many a year), they have produced a great live performance.
4. Bruno Mars and Janelle Monae
There is too much talent in newcomer Bruno Mars to pass up seeing him live. This kid is dripping with soul! Not the type of thing I usually see but his 2010 Grammy performance really sparked my interest.
3. Joan Jett
Her attitude and approach to her music has barely changed over the years, and that's a good thing. It's no nonsense rock and roll delivered by one of rock's legendary female performers.
2. Pat Benatar
Can't miss this opening fair show. Pat Benatar and Neil Giraldo having been cranking out the hits for years. And with these two, the hits are plentiful. Looking forward to what should be a great night of rock and roll from one of rock's most heralded female vocalists.
1. Willie Nelson
To me Willie Nelson is the country Bob Dylan with his long, illustrious, influential career that he's shaped on his own terms. Willie has been around and has performed with just about everyone. He is a champion for the American farmer and a true treasure of American music. Nelson's legacy is firmly stamped upon the country music landscape. His hits, his tight band, and his voice make this the highlight of the summer fair.
And if you have never seen him play that beat up guitar of his live, you are in for a real treat!