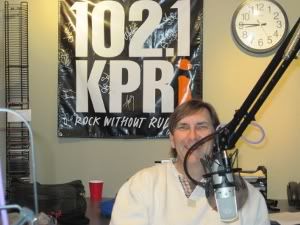 Since 1996, 102.1FM KPRi has staked its claim as "the" true local, independent radio station of San Diego. Madison Keith, the station's morning DJ, has long anchored KPRi's message and personifies the commitment to its independent spirit. With the likeability and easy-going nature of a long-time friend, Madison has built a community around music and his desire to give back.
I spent a morning with him and his invaluable producer Sean Smith and got a chance to see the inner workings of what these two put together each day. The only times I had ever seen Madison were in public settings when he was either MC'ing a show or doing a remote broadcast, and I was wondering what he was like when the spotlight was not shining on him. As the morning progressed, I watched Madison operate with a confident ease, lighting up anytime the conversation would shift to music. And clearly, his love of it couldn't be more genuine. His knowledge runs deep and I found our conversation continually drifting off subject because the two of us just can't seem to hold back when it comes to talking about music. Here are a few other things I'm glad we got around to discussing.
What is the thing you enjoy most about working for an independent radio station?
I got started in college radio and went to work for a station that was locally owned in a small town in Alabama. You did everything yourself and had a lot of freedom. That, rather than going into a corporate environment, right off the bat, gave me a sense that radio can be something a little different. Working for Bob Hughes and Jonathan Schwartz, who live here in town, is great. They have stuck out this format that many other stations would have folded. The advantage of being able to work so closely to them is amazing. Plus, there are no politics with what happens. It's nice not having to worry about pleasing a consultant in Dallas, TX; we can just please ourselves.
What makes a good DJ?
Someone who can actually listen more than they can actually talk. Someone who is really dialed in to what the people are thinking. And kind of being fearless. No matter what I say on the radio, someone is going to hate some of it. Half the people are going to like me, half the people aren't. So, I have to just be myself.
After all these years in radio, what keeps you motivated?
When I started, I was 17-18 and really into the music. And it was a chance to be a local personality, and I didn't do real good with that. I wasn't that outgoing at the time. I was nervous, and I had to get over my nerves. It took me awhile, but I realized that what really makes this business successful for me is having fun. And It took me thirty years to come up with that. But I have this philosophy of energy that we are attracted to things that give us the kind of energy we need. What brings me in every morning is I get to come in and play music. And a lot of people say, "Aw, you play the same stuff." But, I like it; it's just what I have always done. I grew up on Top 40 radio. A good song is a good song. I never get bored of it. I get motivated by coming in, playing music, having fun with the listeners, try to push forth an energy and drawing off their energy, and when you get that going on it's really great. Like I said, it has taken me thirty years to figure this out, and I hope I'm right.
What is the best advice you have ever received about being a DJ?
I have a really quirky sense of humor. And as we grow up, sometimes people will go, "Aww…you're not funny." And sometimes you're not fun, and unless you try to be funny you will never know what works. A friend of mine once told me that everybody is funny and that I am funny. And he was a stand-up comedian. And Michael Grosse, who lives in Oceanside and is one of the creators of National Lampoon, told me "you never know what people are going to like until you try it." That helped a lot.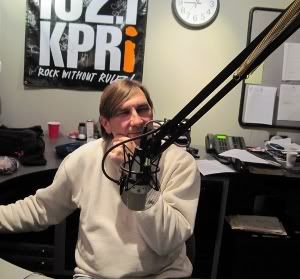 What is the thing you like about the San Diego music scene the most?
San Diego is a great place to come to write music. I can go on and on about the talent here. There are a lot of amazing voices and songwriters in San Diego. There is a lot of community here. What I do wish is that the people in San Diego had more disposable income to go out and see them. The problem is they are competing with so much here–the beach, baseball, the desert, and so on, that it's tough. You know, I wish that radio was forced to play a certain amount of local music. Like in Canada, they're forced to play a certain amount of Canadian music. I wish that all markets were forced to play a certain amount of local music. Then, you would have the exposure of the local musicians and it would nurture the local music scene.
You can hear Madison Monday through Friday from 5:30a.m. – 10:00a.m. He does the popular 8@8 segment  twice each day at 8a.m. and 8p.m. You can also catch him at most of the KPRi Private Listener events, The Green Flash concerts, or anywhere good music is being played.