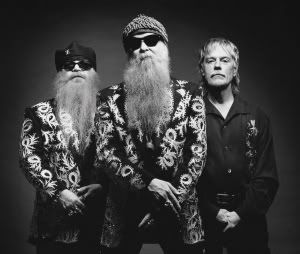 Roll down the window, ease that seat back, and crank the knob… it's coast jams time! ZZ Top has laid the bad ass boogie down for years, so these boys know what it takes to rock the road. Billy Gibbons' leads are a sound no one can touch, and when that crunchy guitar comes screaming through the speakers it's always HOT! This ain't the novice hour; this power trio has been dealing out hits for over 40 YEARS!
But, we're not talking hits here. We're talking driving beats, sweet licks, and lyrics that will have you singing loud and proud when you are cruising down the Highway 101.
I'm Bad I'm Nationwide
Of course they are and of course you are cruising down the street blasting this one. Just such a mean tempo and lyrics that put a snarl on your face. This declaration of badness comes from the Deguello album that also features a coast jam honorable mention-"Cheap Sunglasses."
If I Could Only Flag Her Down
Here's a hidden gem from the mega-monster Eliminator album that also features "Sharp Dressed Man," "Legs," and "Gimme All Your Lovin." Why did "Flag Her Down" make it over those? It's all about the guitar. Billy goes crazy on this one, laying his all-over-the-place licks over the top of a driving beat from Dusty Hill and Frank Beard.
Got Me Under Pressure
Another one from the "Eliminator" session that starts out with a kick in the face and then a Billy lick that really pushes this jam. Bass player Dusty Hill and drummer Frank Beard have been locking into tight grooves for years and this one is no exception. An over the top Reverend Willy G solo towards the end of the song gives him a chance to show off his amazing down and dirty guitar sound that makes him one of the all time greats!
Just Got Paid
Going back a few years for this great slide work out from Billy and the boys. What takes this one to the next level is the back beat laid down by drummer Frank Beard. His up tempo drum pattern really moves this song along and gives Billy a chance to slide his way all over the damn place. Nice stop break towards the end of the song before Billy kicks back into the raunchy riff that makes this song rock!
Heard It On The X
This band is all about the amazing chemistry of three extremely talented players. They come firing out of the gate on this one from the half live/half studio release Fandango. The Billy Gibbons lick is ridiculous and the energy coming off this power trio explodes from the beginning all the way through nonstop to the end. Another Billy Gibbons slide solo highlights the middle before the boys take this short but high energy tune out. A blasting fire ball of rock and a number one coast jam for sure!
Disclaimer: ZZ Top is one of my all time favorite bands. I probably could have done a top 20 Coast Jams from this little old band from Texas! There is too much good stuff from this band going back over 40 years to compress it down to five songs. Probably the hardest coast jam I have done to date and probably the one that took me the longest to put together because I was listening to so many great Top songs during the process… which is always a good problem to have!